Oasis Medspa Dallas, Tx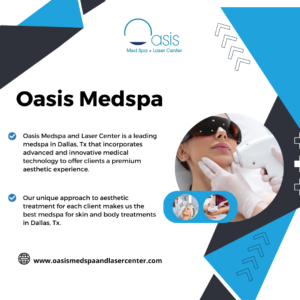 Oasis Medspa and Laser Center is a leading medspa in Dallas, Tx that incorporates advanced and innovative medical technology to offer clients a premium aesthetic experience. Our unique approach to aesthetic treatment for each client makes us the best medspa for skin and body treatments in Dallas, Tx.
Oasis Medspa offers a wide range of effective rejuvenating treatments ranging from cosmetic injections, CoolSculpting, laser treatments, microneedling and VI peel treatments.
We understand that individuals have unique beauty and aesthetic goals. To help them achieve their personal goals, we customize treatments to suit each individual's needs.
Oasis Medspa and Laser Center Dallas, Tx: A Brief History and Legacy
Journey since 2011
Our journey of offering premium aesthetic treatment to patients at Oasis Medspa and Laser Center started in 2011. We've been in the field for over a decade and provide treatments to a wide range of clients, which have helped us master a variety of aesthetic treatments. We always put our client's goals and desires first, which has helped us greatly in satisfying our clients.
Approach to providing innovative treatments with state-of-the-art equipment
One of the distinct features that distinguish us at Oasis Medspa from others is our approach to providing new and innovative beauty treatments making use of modern and advanced equipment and tools. We carry out aesthetic treatments using state-of-the-art equipment. This equipment helps us in maximizing productivity and efficiency while minimizing errors.
Focus on client satisfaction in Dallas, Tx.
Clients visit our medspa to achieve their aesthetic goals and improve their look and beauty. Our team of experts work hand in hand with our clients to understand the client's goals and identify their concerns. This has helped us provide treatments that meet our client's needs.
Comprehensive Guide to Oasis' Med Spa Services and Laser Treatments
Oasis Medspa and Laser Center offer a series of treatments that don't only focus on skin or face alone. Our treatments also focus on helping patients with other body issues they may be experiencing. We offer a series of facial treatments ranging from chemical peels to laser treatments and facials. We also offer cosmetic injectables, CoolSculpting, and micro-needling.
The combination of cutting-edge technology and time-tested beauty procedures
Incorporating cutting-edge technology with time-tested aesthetic procedures helps achieve better results and enhance clients' experience.
At Oasis Medspa and Laser Center, we used IPL for our facial photo treatment and Candela's GentleMax Pro dual laser system for laser hair removal and the ever-effective high-energy equipment, GentleYAG laser for skin tightening.
The modem and popular CoolSculpting technology is used to remove fatty layers from the body of our clients and help them achieve a more enhanced physique. We also use the non-surgical facelift technology called SkinPen for a painless micro-needling session.
Deep-Dive into Popular medical spa Services in Dallas, Tx
CoolSculpting
CoolSculpting in Dallas, Tx, is a non-surgical fat reduction aesthetic treatment. At Oasis Medspa and laser centre, we use advanced and innovative technology to target fat cells in your body and freeze them to death non-invasively. It requires minimal recovery time and offers long-lasting results.
How it helps in contouring the physique
This non-surgical body sculpting technique helps contour the body by targeting stubborn unwanted fats in the different areas of the body and destroying them through freezing. The fat in the area is eliminated, and your body shape is more accentuated.
Cosmetic Injectables in Dallas, Tx
The range of cosmetic injectables offered at Oasis Medspa includes Juvederm, Dysport, Botox, Restylane, and Kybella.
Botox is one of the most popular cosmetic injectables at Oasis Medspa Dallas, tx. Botox is an anti-wrinkle injection used to eliminate wrinkles and lines.
Restylane is a dermal filler used to tackle wrinkles. It helps to eliminate moderate to severe wrinkles and leaves you with a smoother and more youthful skin appearance within a week or two
Dysport is an injectable similar to Botox. It's used to eliminate lines and creases over a large surface area on the face. You can start seeing results from the treatment after three days.
Juvederm is a hyaluronic acid filler that adds more volume to facial areas like the cheeks, mouth, and lips.
Kybella is an injectable used to eliminate submental fat or double chin to achieve a well-defined jaw.
Facials in Dallas, Tx
Customization of treatments for individual skin needs
Facials involve using various skin care techniques, including cleansing and exfoliating, to improve the appearance of your facial skin. Facials are customized to individual skin imperfections and needs. Your face is examined to identify your concerns, and your beauty goals are discussed to help curate the best facial treatment for you.
The benefits of HydraFacials and VI peels
Eliminates fine lines and wrinkles
IV peels and hydra facials contribute to the production of collagen and elastin, which eliminate and prevent the formation of new wrinkles.
Tackles sun spots and discolouration
Ingredients used in IV peel treatment help treat discolouration and lighten up dark areas on the face caused by the sun.
Keeps the skin hydrated and clear
Hydra facial treatment hydrates and nourishes the skin. It also brightens the skin and enhances its complexion.
Microneedling in Dallas, Tx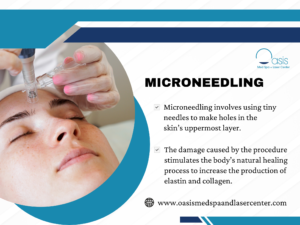 Microneedling involves using tiny needles to make holes in the skin's uppermost layer. The damage caused by the procedure stimulates the body's natural healing process to increase the production of elastin and collagen.
How micro-needling helps revitalize the skin
Microneedling helps with skin revitalization by inducing the production of new collagen, which is essential in eliminating wrinkles and lines and improving its tone and texture.
Lamprobe
Lamprobe is an aesthetic procedure that uses radio and high-frequency technology to treat minor skin issues.
Its effectiveness for minor skin abnormalities
Lamprobe tackles minor skin concerns instantaneously. It's extremely precise, non-invasive and suitable for all skin types.
Laser Treatments in Dallas, Tx
Overview of the range of laser treatments offered
Our Oasis medical spa and Laser Center laser treatment options include IPL Photofacial, Laser Skin Tightening, Toenail Fungus Laser Treatment and Laser Hair Removal.
IPL photo facial therapy
This type of laser treatment involves using intended pulse light to combat the signs of ageing and discolouration on your skin. At Oasis Medspa, we use premium and highest-grade IPL photo facial technology to address your skin concerns and help you achieve your goals.
Laser skin tightening
This one uses high-energy light from the GentleYAG® laser to lift and tighten the skin. The light penetrates deep into the skin layer to minimize skin sagging and promote collagen production.
Laser hair removal
This laser aesthetic treatment option uses light energy from laser technology to destroy hair follicles and prevent new hair growth. It's a more convenient option than waxing or shaving.
Toenail fungus laser treatment
This is an easy way to get rid of stubborn toenail fungus. Advanced laser technology destroys the fungus and gives space for developing a new healthy toenail.
The Oasis Experience: What Sets Us Apart
Personalized treatment plans
Oasis Medspa differs from other medspas because we provide personalized treatments. We customize our treatments to address each client's skin concerns and needs effectively.
Expert team of licensed aestheticians and laser technicians
We pride ourselves on having one of the best expert teams a medspa can ever have. Our team includes licensed aestheticians and laser technicians with years of experience providing various aesthetic treatments.
Luxurious, modern spa facility
Our modern and luxurious facilities are another factor that sets us apart. We provide our aesthetic procedures using state-of-the-art technology and modern equipment. This has continually helped us deliver better client results and increase efficiency.
Client testimonials and success stories
Our clients' many testimonials and success stories confirm our expertise. Many clients are pleased with our treatments and are always happy when they see their results. Browse through our website and social media pages to see many of our client's testimonials and success stories.
Conclusion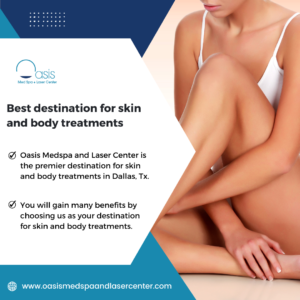 Oasis Medspa and Laser Center is the premier destination for skin and body treatments in Dallas, Tx. You will gain many benefits by choosing us as your destination for skin and body treatments. Our team of experts, state-of-the-art facilities and innovative techniques, and personalized treatment plans are some of the great reasons to seek our services.
Book an appointment with us to discover luxury medical spa services at Oasis Medspa and Laser Center.
FAQs
Can I book a consultation at the luxury medical spa to discuss my specific needs and goals?
You can book a consultation session with us to discuss your specific needs and goals.
How long do the skin and body treatments typically take?
Depending on the treatment, skin and body treatment can range from 15 minutes to 1 hour or longer.
Is there any downtime or recovery period associated with the treatments?
Most of our aesthetic treatments don't require extensive downtime or a recovery period.
Are the products used at the luxury med spa high-quality and safe?
Our products are of high quality and very safe for use.
Are the treatments at the luxury medical spa suitable for all skin types?
Our treatments are suitable for all skin types.
What are the pricing options for the services at the luxury med spa?
We're flexible and have affordable pricing options, including a third-party financing option.
Can I purchase gift certificates for the luxury med spa services?
Contact us for more information about gift certificates for our services.
Are there any special promotions or packages available at the luxury medical spa?
Contact us to know if there are any special promotions or packages available.
How can I schedule an appointment at Dallas' premier luxury medical spa?
You can schedule your appointment by filling out our online form or contacting us directly.
What is the cancellation policy for appointments at the luxury med spa?
You can give a 24-hour advance notice to cancel or reschedule any service without charge.
Can I combine multiple treatments or services during a single visit to the med spa?
Yes. You can combine multiple treatments during a single visit.
Is there any aftercare required following the treatments at the luxury med spa?
Yes. Aftercare is usually required after treatments.
What should I expect during my first visit to the luxury med spa?
You should expect to enjoy a relaxing and satisfying med spa experience upon your first visit.
Can I expect long-lasting results from the skin and body treatments at the luxury med spa?
The results of our treatments are long-lasting, but the results vary in individuals.