Dallas Laser Skin Tightening Treatments
For a more youthful and glowing complexion, clients choose our med spa for a variety of cosmetic beauty treatments. Oasis Med Spa and Laser Center is Dallas' premier location for laser skin tightening treatments.
Our laser technicians deliver fast and flawless treatments at our high-end med spa using the latest cosmetic skin technology. After a quick and comfortable treatment, clients see noticeably smoother, firmer and tighter skin – without requiring surgical procedures.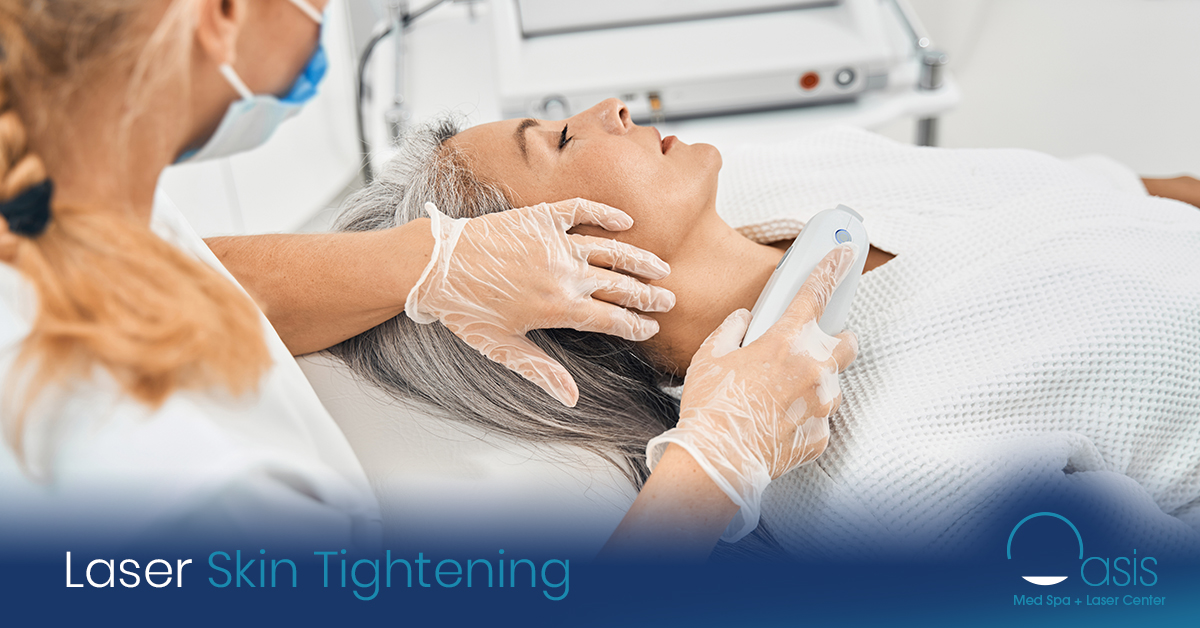 What Laser Skin Tightening Treatments Involve
Laser skin tightening is a minimally invasive procedure to reduce the signs of aging. The treatment uses concentrated light to penetrate the top layers of the skin. Heat from the laser is key to stimulating collagen and elastin growth.
Collagen and elastin are proteins integral to the skin's structure, providing firmness, hydration and elasticity. Unfortunately, as we age we produce less collagen and elastin. However, thanks to our expert laser skin tightening solution, levels of these proteins rise, making the skin on the face, neck, jawline and stomach look smoother, tighter and more defined.
The Laser Skin Tightening Procedure
Our laser technicians at Oasis Med Spa and Laser Center use the GentleYAG® laser. This advanced technology helps deliver smoother, firmer and younger-looking skin. The typical steps for clients that get laser skin tightening at our Dallas med spa are highlighted below.
Topical numbing cream is applied to the face, neck or other treatment zones.
The GentleYAG device emits high-intensity light at the target treatment area.
Heating collagen under the skin's surface over 30–90 minutes causes the skin to contract, which makes the skin appear firmer.
For optimal results, treatment requires around three to six sessions.
Collagen levels continue to increase over the next few months, increasing skin elasticity.
While laser skin tightening doesn't require downtime, following your aesthetician's skin care guidance is essential. We also recommend using moisturizing and hydrating products from Cvara Botanicals. Our product line is formulated using natural extracts and time-tested ingredients. 
We offer an array of non-surgical cosmetic treatments such as dermal fillers and neurotoxin injectables to assist you in achieving your beauty goals.
Common Questions About Laser Skin Tightening
Laser skin tightening is a better option for clients looking for an affordable, non-surgical, fast cosmetic procedure. Laser skin tightening does not provide the same dramatic results as a surgical facelift yet its results are still visible and impressive.
Yes. Our laser skin tightening procedures are safe and consistent. Some clients may experience mild inflammation that quickly passes.
Results from laser skin tightening treatment typically last for two to three years. However, results vary based on age, health, dedication to a skincare regimen and other factors.
Best Laser Treatment for Skin Tightening in Dallas
Oasis Med Spa and Laser Center is the top location for laser skin tightening solutions in the Dallas Metroplex. We provide many quality med spa services to clients in Dallas, Carrollton, Frisco, McKinney and beyond. For assistance, call (972) 250-9999 or request an appointment now.