Dallas Med Spa Laser Treatments We Offer
At Oasis Med Spa and Laser Center, our expert technicians target acne, blemishes, wrinkles and other skin care concerns (along with hair removal and help for toenail fungus) using laser therapy treatments. Each cosmetic beauty treatment provided at our Dallas med spa is customized based on each client's cosmetic and beauty needs.
Visitors to our upscale Dallas med spa are treated with the latest laser therapies using state-of-the-art technology. These laser treatments use concentrated beams of light to provide a range of aesthetic and medical benefits. Every laser procedure is safe and reliable, delivering the very best results possible.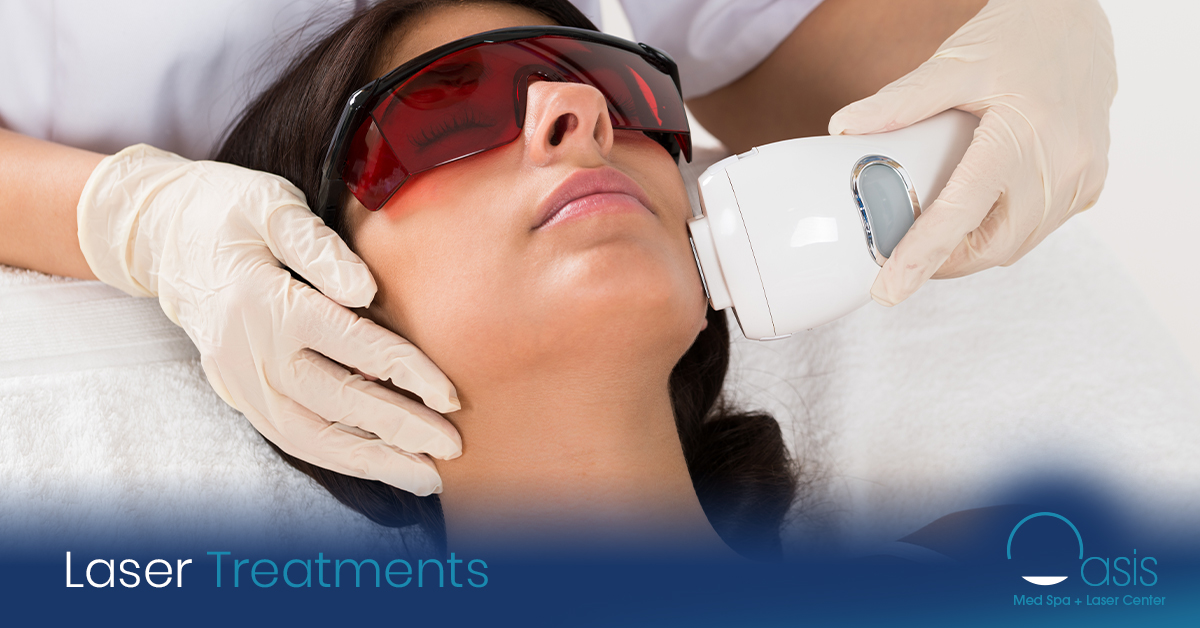 What the Laser Treatment Process Includes
Cosmetic laser treatments (also called light-based therapy) focus high-intensity light on a targeted area of the body. The laser emits different colors of light depending on the particular skin condition being addressed. When the light reaches the target location, it converts into heat energy, encouraging skin cell turnover and natural healing.
A laser targets skin cells at varying depths, and without harming any surrounding skin. As a result, this adaptable technology can be used for treating acne, encouraging collagen production, removing hair follicles and more.
Our Laser Treatment Med Spa Services
There are many cosmetic applications for laser procedures. Our expert laser technicians use the latest technology for the following treatments.
Intense pulsed light (IPL) therapy fights the signs of aging and treats skin discoloration. An IPL Photofacial is a minimally-invasive procedure that removes or reduces sun damage, liver spots, spider veins, freckles, wrinkles and other common skin issues. Our technicians use the highest grade IPL photo-rejuvenation technology, targeting imperfections with controlled light pulses. By activating cellular turnover and stimulating collagen, patients achieve a smoother, firmer, more even complexion. 
Laser hair removal is a convenient alternative to shaving and waxing. This process uses concentrated pulses of light to target the melanin in the hair follicles. The light is converted into heat and gradually destroys the hair follicles, preventing new hair growth. At Oasis Med Spa and Laser Center, our trained technicians use Candela's GentleMax Pro dual laser system. This versatile machine works on all hair types and delivers consistent results for our clients quite quickly.
Laser skin tightening is a non-surgical procedure for lifting, firming and tightening the skin. While our laser technicians can perform the treatment anywhere on the body, the face, neck, jawline and stomach are popular locations due to the wrinkles and sagging skin that may come with aging.
Powered by the GentleYAG® laser, high-energy light penetrates deep beneath the surface of the skin. This targeted heat stimulates collagen growth, reducing wrinkles and sagging skin with little to no downtime.
Toenail Fungus Laser Treatment
Toenail fungus is stubborn and hard to get rid of with conventional creams. At our Dallas med spa, we have a better solution. Our advanced laser technology tackles nail fungus by penetrating beneath the toenail. The targeted heat destroys the fungus and a new, healthy nail will grow. Toenail fungus laser removal typically requires multiple sessions, depending on the severity of the condition.
The Benefits of Laser Treatments
Laser treatments offer many benefits, depending on the needs of each client. There are many advantages of choosing a laser treatment with Oasis Med Spa and Laser Center.
Reducing fine lines and wrinkles on the face and body.
Promoting firmer, tighter skin by stimulating collagen production.
Removing spider veins and broken capillaries.
Preventing acne breakouts by targeting bacteria.
Removing unwanted hair on the body.
Limiting the appearance of sunspots and dark marks.
Clearing persistent toenail fungus.
Expertly-performed laser treatments bring many cosmetic and health benefits. This is exactly why clients choose our Dallas med spa for all their beauty and skin care treatments again and again.
Common Questions About Laser Treatments
Gently moisturizing the treatment area will keep the skin hydrated. Because some products may be too strong to use immediately after treatment, we will advise each client on a post-treatment skincare regimen that works for them. This may include items from our natural skincare brand, Cvara Botanicals.
We have multiple laser therapies to treat acne scarring. IPL Photofacials and fractional laser treatments break down the scar tissue from acne scarring, while encouraging collagen growth for smoother skin.
Yes. Our skilled laser technicians are trained and licensed, ensuring the safest and best quality cosmetic treatments. We use advanced laser equipment from established brands like Candela®.
Premier Cosmetic Laser Treatments in Dallas
Oasis Med Spa and Laser Center is the leading provider of laser treatments in the Dallas Metroplex. Our technicians help clients in Dallas, Carrollton, Frisco, Plano and beyond with skin, hair and body procedures. For assistance, call (972) 250-9999 or request an appointment today.