Dallas Med Spa Facial Treatments
Oasis Med Spa and Laser Center is Dallas' premier destination for facials, chemical peels and skincare treatments. We welcome clients of all ages and skin types for a refreshing, indulgent and rejuvenating med spa experience. By using only the finest quality products and specialized skincare technology, our talented aestheticians leave you with a glowing complexion and silky smooth skin. Relax and unwind, and reverse the signs of aging with a facial spa treatment.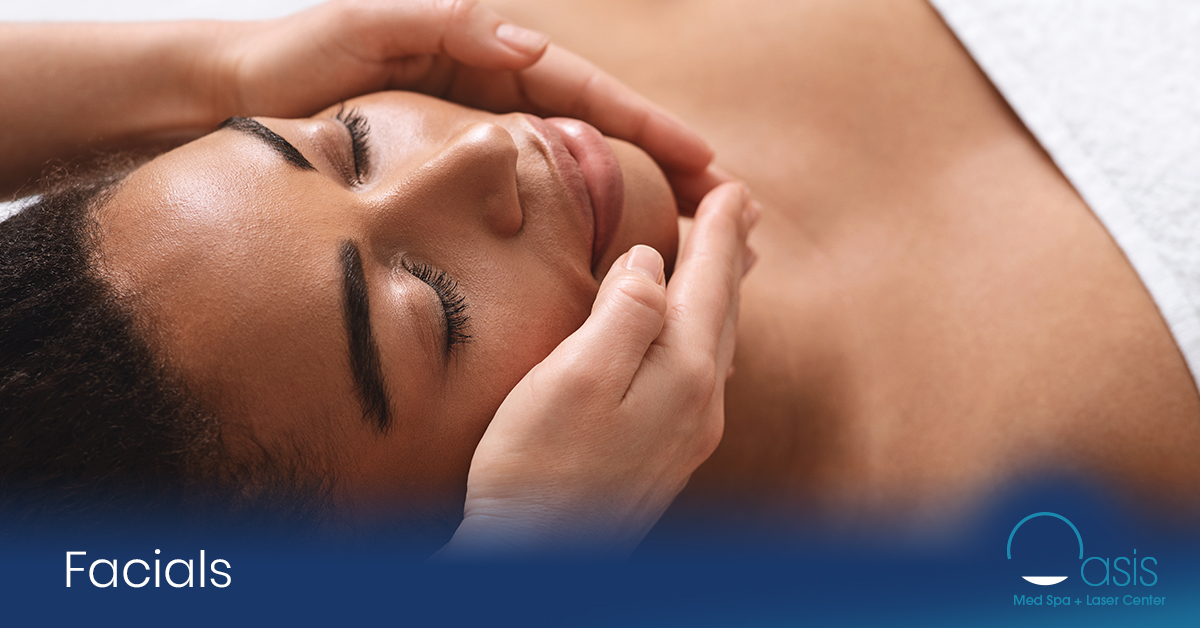 Pampering Facial Treatments and Chemical Peels
Facials are a type of skin care treatment that uses cleansing, exfoliating, extracting, hydrating and moisturizing to improve a person's complexion. At Oasis Med Spa and Laser Center, our staff applies massaging techniques, advanced equipment and personalized treatments to target facial imperfections. Using a gentle and non-surgical approach, clients can get tightened and toned skin without any recovery time.
Our Popular Med Spa Facial Treatments
Our Dallas med spa team provides a wide range of facial treatments for every skin type and desired result. We can treat the signs of aging and persistent acne or provide a nourishing and hydrating solution for a dull complexion. Let us know your skin care goals – we will find the proper facial treatment for you.
HydraFacial is a non-invasive skin treatment that combines cleansing, extraction and hydration for a healthy, revived complexion. This patented product uses hydradermabrasion technology to remove impurities during the gentle exfoliation process. Its vacuum system removes dead skin cells before applying nourishing antioxidant-rich serums. And with the treatment taking as little as 30 minutes, clients are free to continue their day with a refreshing, vibrant glow.
A microdermabrasion treatment is a cosmetic facial procedure offering many of the same exfoliating benefits as HydraFacial. This therapy uses an abrasive applicator to remove the top layer of your skin, providing a more even skin tone and texture. Among the many benefits of microdermabrasion are fewer wrinkles, a brighter skin tone, less visible hyperpigmentation and smoother skin.
Vitality Institute (VI) peels are mid-depth chemical peels that treat acne, fine lines and wrinkles, hyperpigmentation, oily skin, scarring, sun damage and other issues. With a choice of five custom blends, we
personalize each VI peel for the skin care needs
of each client. The treatment carefully removes the damaged outer layer of the skin to reveal a bright and even tone. The addition of specially formulated ingredients stimulates collagen production and increases cell turnover.
At Oasis Med Spa and Laser Center, we offer an array of classic facials and innovative new techniques. Our licensed aestheticians use custom combinations of ingredients from our high-end skincare brand, Cvara Botanicals.
Facial Services Most Often Requested by Our Clients
Acne reduction facial
Oxygen facial treatment
TCA chemical peel
Salicylic chemical peel
Glycolic chemical peel
Jessner chemical peel
Dermaplaning
Custom signature facial
These facial treatments and the many others available at Oasis Med Spa and Laser Center provide various benefits for our clients. From exfoliating, tightening and rejuvenating the skin to relaxing, de-stressing and boosting your self-confidence, a visit to our med spa will be a rewarding experience. 
Skin Conditions Treated by Facials and Peels
A facial is a multi-purpose skin treatment that is adaptable to almost all common skin complaints. A facial is a soothing experience that brightens and nourishes your skin. When it's time to address any of the following conditions, our staff is ready to help.
Fine lines
Wrinkles
Acne
Acne scarring
Clogged pores
Sensitive skin
Dehydration
Hyperpigmentation
Scarring
Dull complexion
Uneven skin tone
Loss of collagen
Circulation issues
Dark under-eye circles
Getting a facial in combination with our other med spa services (such as cosmetic injectables or laser treatments) is sure to help you rejuvenate your skin and bring back a youthful appearance.
Common Questions About Facials
Facials are not typically painful, though chemical peels and other exfoliating treatments may cause some temporary sensitivity or soreness.
Skincare experts usually recommend getting one facial per month. Allowing around three to four weeks gives enough time for your skin cells to grow back. Our med spa staff can provide more precise advice based on your skin type and personal goals.
A complete facial usually takes around 60–90 minutes, but times will vary depending on the type of treatment required.
Best Facial Treatments in Dallas
Oasis Med Spa and Laser Center is the premier med spa in the Dallas Metroplex. Our expert team provides the finest facial treatments, chemical peels and other skin and beauty procedures for clients in Dallas, Frisco, Plano, McKinney and the surrounding areas. To reach us, call (972) 250-9999 or request an appointment today.