Oasis Med Spa and Laser Center Memberships
At Oasis Med Spa and Laser Center, we understand the importance of feeling confident in your own skin. By designing memberships around your needs, we can help you meet your skin and beauty goals.
Whether you need a facial treatment for a specific skin condition or a laser therapy treatment, our membership plans include an array of treatment options. We also offer additional discounted services to ensure members experience all our med spa has to offer.
Your skin care is our first priority. Receive maximum results with little to no downtime so you can always look your very best. Our full-service medical day spa and skin care center is conveniently located at Frankford and the Dallas Toll Road.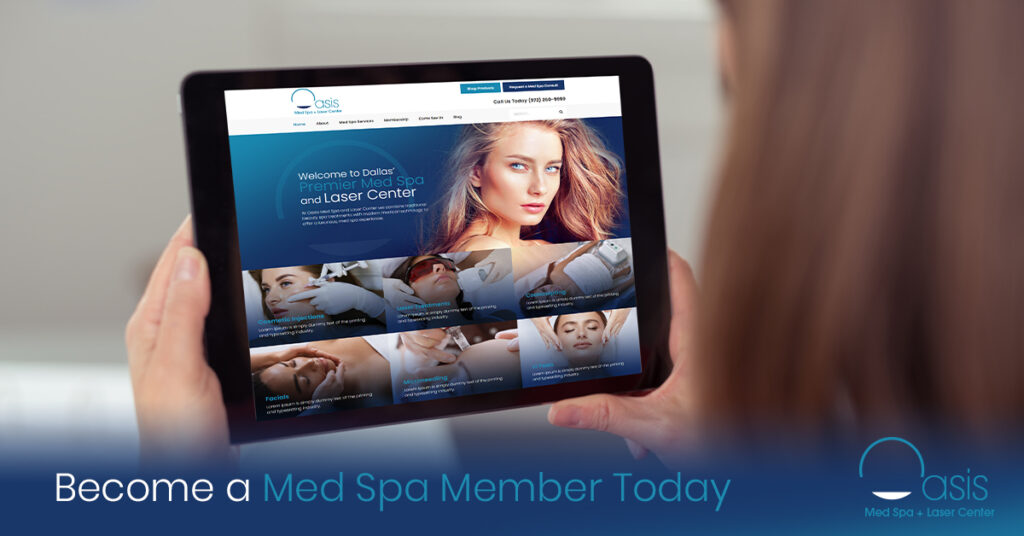 Membership programs are available to provide results and continued care in a calming, luxury spa atmosphere. Our med spa services go beyond the traditional relaxing facial. Our results-oriented approach begins with an in-depth skin analysis during your first treatment. This personalized approach is the best way to analyze your individual skin conditions for optimal results.
| One year contract | 6 months contract |
| --- | --- |
| $79 per month* | $89 per month* |
| $138 per month** | $158 per month** |
| $948 single payment, 13th month free | $534 single payment, 7th month free |
* – one monthly service
** – two monthly services
Here's What You Get With a Membership to Our Dallas Med Spa
CoolSculpting
Membership pricing so low we can't even publish it! The savings often cover the cost of the membership itself.
CoolSculpting® fat-freezing procedure is the only FDA-approved*, non-surgical fat-reduction treatment that uses controlled cooling to eliminate the stubborn fat that stays in place despite proper diet and exercise. The results are proven, noticeable and lasting, so you'll look great from every angle.
Facials
Custom Signature Facial – Tailored to your specific needs & wants.
Acne Reducing Facial – Gentle treatment to help clear and calm acne complexion skin (extractions included).
O2 Revitalizing Oxygen Facial – Infuses oxygen, plant derived stem cells, peptides to lift, tone and revitalize skin.
Vitamin C Facial.
Vitamin C, hydroxy acids, stem cell & beneficial enzymes to promote cellular renewal.
Microdermabrasion
Peels
Glycolic Peel
Jessner Peel
Salicylic Peel
TCA peel
Other Med Spa Treatments
Microdermabrasion Treatment
Dermaplane Treatment
IPL (Intense Pulse Light) Photofacial Treatment
Laser Skin Tightening Treatment (Face)
Laser Vein Therapy Treatment (15 mins – Face or Legs)
Lamprobe Treatment (includes 3 skin irregularities)
Discounts on additional services such as:
| | Regular | Member |
| --- | --- | --- |
| Laser Hair Removal (single treatment) | | 10% off |
| HydraFacial | $165 | $115 |
| HydraFacial Upgrades | varies | varies |
| SkinPen® (Microneedling) | $345 | $285 |
| VI Peel | $335 | $245 |
| Red/Blue LED Treatments | $30 | $20 |
| Botox® | $12/unit | $11/unit |
| Dysport® | $5/unit | $4.50/unit |
| CVARA Botanical Skin Care | | 10% off |
Get Started With a Luxury Spa Membership Today
When you're ready to look your very best, Oasis Med Spa and Laser Center is waiting for you. Whether you're just beginning to look into a med spa or are interested in a membership, you can get started by calling us at (972) 250-9999 or by requesting an appointment.