Dallas Cosmetic Injectables and Botox Med Spa
Oasis Med Spa and Laser Center is Dallas' premier location for cosmetic injectables and dermal fillers. Our experienced medical professionals use the highest quality injectables and replenishing skin treatments for a refreshed and vibrant complexion. If you are concerned about fine lines, wrinkles, sagging skin and other signs of aging, let us develop a personalized treatment plan for you from the comfort of our world-class med spa.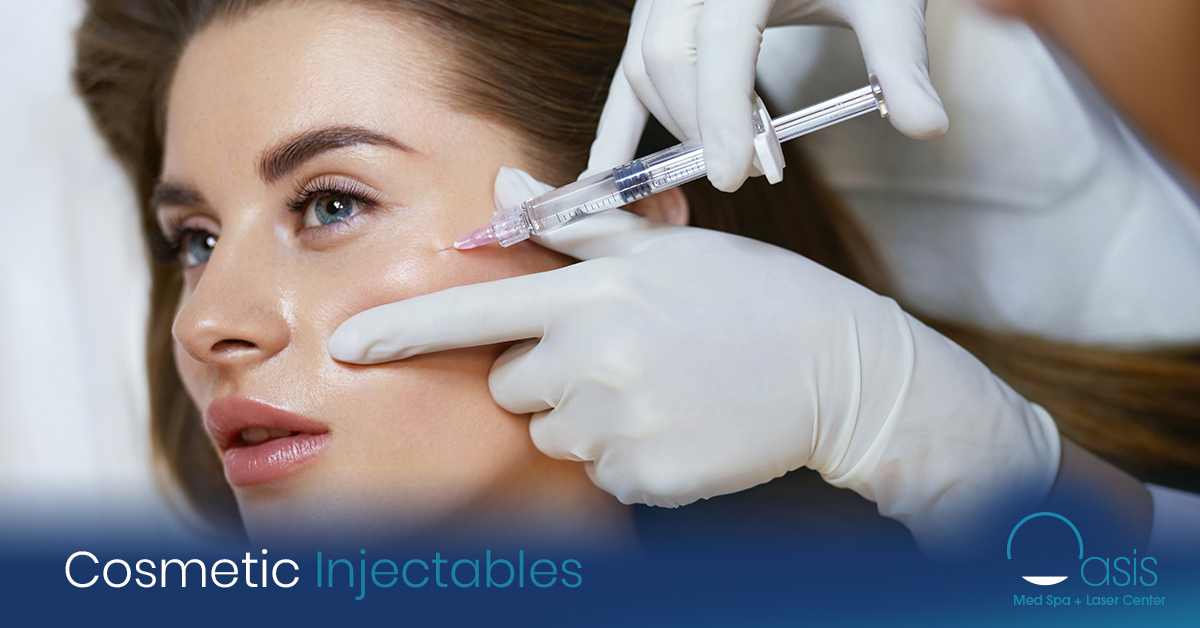 Best Cosmetic Injectables and Anti-Wrinkle Treatments
When you need a proven and elegant solution for lines, creases, scarring and wrinkles, cosmetic injectable treatments deliver fast, safe and effective results. Under the guidance of our trained medical professionals, clients receive personalized cosmetic injection treatments for their skincare needs. With solutions for the face and body, the treatment will restore lost volume, smooth out any blemishes and reduce the signs of aging.
Cosmetic Injectable Muscle Relaxants
Anti-wrinkle cosmetic injectables (also known as neurotoxin treatments) target specific muscles and the nerves connected to them. These neurotoxins block signals between the muscle and nerves in areas where wrinkles and sagging are common.
By temporarily paralyzing the muscles it causes the skin to gradually relax, resulting in a smooth and rejuvenated appearance. At Oasis Med Spa and Laser Center, we primarily use two of the best-known brands of neurotoxin injectables – Botox® and Dysport®.
Botox is a very popular type of non-surgical and non-invasive cosmetic injectable. Taking only 10–15 minutes and with no downtime, a short visit to our med spa will smooth out your expression lines and wrinkles.
Botox Is Great for Treating These Areas
Crow's feet
Forehead creases
Laugh lines
Sagging brows
Corners of the mouth
Glabellar lines
Results from Botox treatment are noticeable within the first week, and typically last for four to six months.
Sharing the same active ingredient, botulinum toxin type A, Dysport has many similarities with Botox. However, there are key differences that include the formulation and application of each product. Because Dysport spreads over a larger surface area, it's a good option for substantial areas of skin, while Botox offers more precision.
Dysport Can Be Used for Treating These Areas
Glabellar lines
Forehead creases
Clients will see results within two to three days, after only one session. Results from Dysport injections will last around 5 months.
Dermal fillers use various gel substances to add volume, soften creases and reduce wrinkles. We inject high-quality fillers at various depths to plump the skin and return volume to the targeted area. With treatments for various areas of the body – including the lips, forehead, eyes and hands – our team creates customized solutions for each client's cosmetic needs. Our range of dermal fillers includes Juvéderm® and Restylane®.
Juvéderm produces a range of fillers for adding volume to different areas of the face. The hyaluronic acid fillers stimulate collagen production for a more youthful and revitalized appearance.
Juvéderm's Dermal Fillers Add Volume to These Areas
Forehead
Nose
Cheeks
Mouth
Lips
Results typically last for nine months to one year, with the treatment visibly reducing wrinkles and adding volume.
Restylane is another popular brand of dermal filler used at our Dallas med spa. The Restylane collection of injectable fillers targets moderate to severe facial wrinkles and creases. Clients who receive treatment with Restylane fillers will see the full effects appear around one to two weeks after treatment.
Restylane Can Be Used to Treat These Areas
Lip volume
Dark eye circles
Smile lines
Cheek volume
Clients will see visible results immediately.
Kybella® is an alternative injectable treatment that is not a dermal filler or neurotoxin. Kybella is a treatment for double chin (submental fat) that works by destroying fat cells for a more defined jawline. At Oasis Med Spa and Laser Center, we also combine Kybella with dermal fillers and other cosmetic treatments for a youthful appearance.
Common Questions About Cosmetic Injectables
Cosmetic injections are frequently used to reduce fine lines and wrinkles on the face and body. Dermal fillers are designed for adding volume to lips, cheeks and other areas.
If you have fine lines and wrinkles, are in good health and want a temporary anti-aging solution, cosmetic injectables such as Botox are an ideal beauty treatment.
Yes. Many dermal filler products boost collagen production and soften the skin to reduce the appearance of scarring. Our team will recommend an appropriate cosmetic treatment for long-term results.
Dallas Med Spa Premier Cosmetic Injectables and Dermal Fillers
For the best cosmetic injectable and filler treatments in the Dallas Metroplex, visit Oasis Med Spa and Laser Center. Our friendly and skilled staff welcomes clients from Dallas, Frisco, Plano, McKinney and beyond. To find out more, call (972) 250-9999 or request an appointment today.