Dallas HydraFacial Treatments for Radiant Skin
Oasis Med Spa and Laser Center is the leading provider of HydraFacial treatments in Dallas. Hydradermabrasion is one of many facial treatments available at our med spa.
Our licensed technicians use the patented HydraFacial technology for cleansing, extracting and hydrating the skin in as little as 30 minutes. If you are looking for a safe, gentle and effective way to slow the signs of aging, the state-of-the-art HydraFacial technology is hard to beat.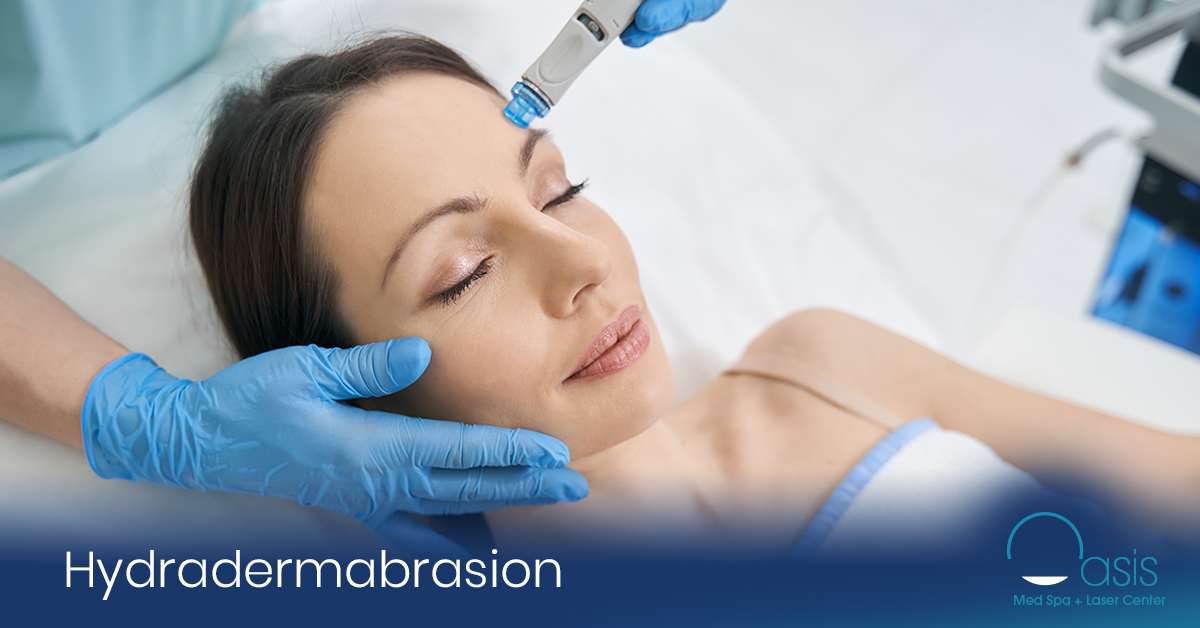 An Overview of the HydraFacial Treatment
HydraFacial is an advanced, multi-step procedure that combines hydradermabrasion with nourishing serums for smooth and glowing skin. Unlike a traditional facial, a HydraFacial delivers immediate results without redness, irritation or downtime. In addition, the Vortex-Fusion technology goes above and beyond the standard facial process. This 4-in-1 hydradermabrasion machine cleanses, exfoliates, peels and hydrates the skin for immaculate results.
The HydraFacial Treatment Procedure
The 3-step HydraFacial procedure is quick, painless and delivers immediate results. Our trained and licensed aestheticians work with people of all ages and skin types. Here is a closer look at each stage.
Cleanse and peel – The cleansing process removes surface debris before the exfoliation procedure gently eliminates dead skin cells.
Extract and hydrate – The HydraFacial suction device unclogs your pores to remove blackheads and debris, with moisturizers providing hydration and nourishment.
Fuse and protect – Serums containing antioxidants, peptides and hyaluronic acid add protection for a smooth, soft complexion.
Benefits of HydraFacial Therapy
A HydraFacial helps clients at our Dallas med spa by:
Minimizing fine lines and wrinkles.
Clearing up blemishes and acne breakouts.
Delivering healthy nutrients to the skin.
Reducing signs of sun damage.
Improving skin tone and texture.
Increasing skin elasticity and volume.
Cleaning oily and congested pores.
Common Questions About HydraFacial
HydraFacial is an effective treatment for all types of skin, including people with sensitive skin. Our med spa technicians select nourishing serums that work with your skin type to deliver exceptional results.
Clients typically experience clearer skin and tone improvements after a single treatment. A HydraFacial appointment every two to six weeks is advisable for reducing fine lines, wrinkles, blemishes, sun damage and other skin conditions.
Yes. Acne can occur when your pores become blocked with oil, dead skin cells and bacteria. Hydradermabrasion therapy is an effective exfoliating solution for cleaning pores and removing excess oil and dead skin cells on the face.
Contact Our Dallas Med Spa for HydraFacial Solutions
Oasis Med Spa and Laser Center is a trusted provider of HydraFacial, facial treatments, chemical peels and other face and body therapies. Our experienced technicians help clients from Carrollton, Frisco, Plano and throughout the Dallas Metroplex. For more information, call (972) 250-9999 or request an appointment today.