Dallas VI Peel Treatments for Smooth and Radiant Skin
Vitality Institute (VI) Peels are fast-acting, moderate-depth chemical peels offering exfoliating and rejuvenating benefits for a refreshing glow. The VI Peel is one of our highly-requested skin care facial treatments at our Dallas med spa.
At Oasis Med Spa and Laser Center in Dallas, our licensed technicians use the VI Peel custom-blend formulations to tackle an array of common skin complaints. Within just seven days, the skin resurfacing technology delivers blemish-free and visibly glowing skin.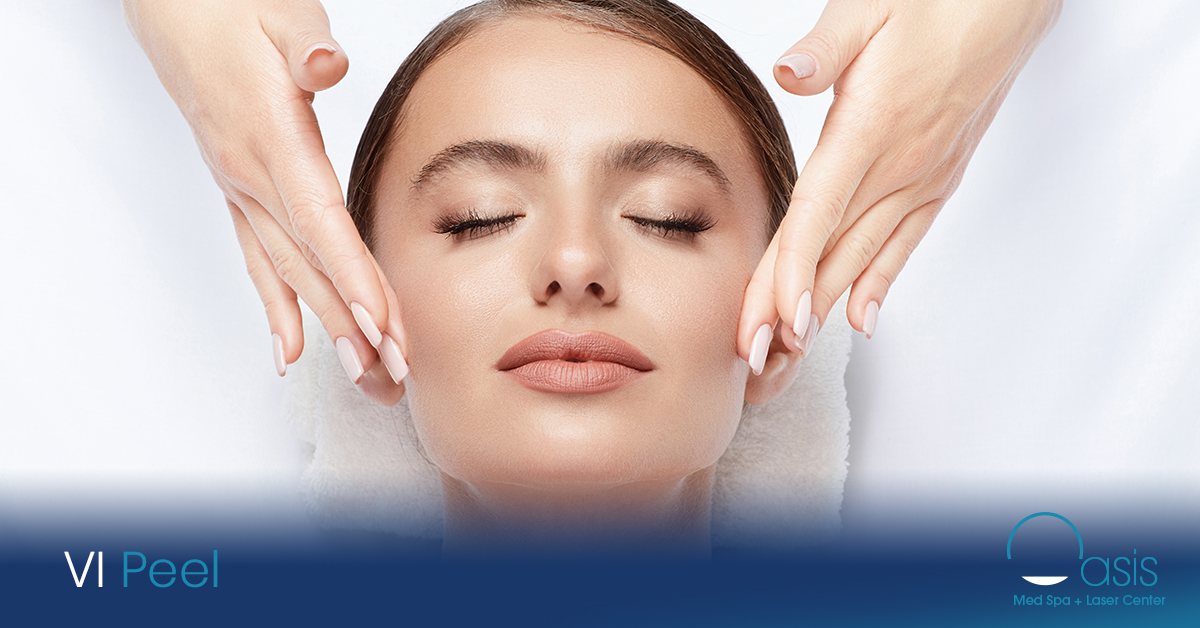 What VI Facial Peels Treat
VI Peels are uniquely formulated to combat signs of aging, improve skin texture and tone, reduce hyperpigmentation and sun damage, treat acne – and deliver healthy and youthful skin. The chemical solutions are gentle enough for all skin types and are particularly effective in improving mild to moderate skin damage.
VI Peel Treatment Process
A trained specialist applies a cleansing product to remove dirt and oil.
VI Peel serums, concentrates, moisturizers and sunscreen are added to the skin in layers.
VI Peel ingredients gently exfoliate the top layer of skin.
Active ingredients target toxins and dead skin cells below the skin's surface.
Treatment takes around 30 minutes, and clients remove the peel solution after four hours.
With five custom VI Peel solutions to choose from, we can treat every type of skin concern.
VI Peel Original for Tone and Texture – early signs of aging, rough skin and sensitive skin.
VI Peel Advanced for Collagen Stimulation and Stretch Marks – loss of elasticity, aging, fine lines and wrinkles.
VI Peel Precision Plus for Skin Discoloration – sun damage, melasma and hyperpigmentation.
VI Peel Purify for Active Acne and Oily Skin – acne, breakouts and congested pores.
VI Peel Purify With Precision Plus for Acne and Acne Scarring – hyperpigmentation, acne scarring and oily skin.
Our friendly med spa staff will help identify the appropriate chemical peel and facial treatment for your needs.
Common Questions About VI Peels
Yes. Our experienced aestheticians create custom plans that may integrate microneedling, an IPL Photofacial, HydraFacial and other treatments. Combining treatments can successfully tackle adult acne, improve skin tone and provide a youthful complexion, along with many other benefits.
We provide a post-peel kit, including a towelette, cream, sunscreen and a guide for protecting your new, radiant complexion.
A VI Peel is a painless treatment, though you may experience some temporary numbness from the chemical peel solution.
Leading VI Peel Treatment Providers in the Dallas Metroplex
For smooth, youthful, glowing skin, visit Oasis Med Spa and Laser Center in Dallas. Our experienced technicians provide custom-blended VI Peels, chemical peels, facials and other cosmetic solutions for various skin care needs. To learn more, call (972) 250-9999 or request an appointment today.