Dallas Lamprobe Treatment for Skin Tags and Lesions
At our Dallas med spa, clients can get their skin tags, lesions and other skin irregularities removed with Lamprobe. Lamprobe is one of the many med spa services we offer that helps our clients look and feel more confident, with visible results often appearing immediately.
At Oasis Med Spa and Laser Center, we use the Lamprobe technology to treat various non-cancerous skin conditions that cause distress and irritation. If you have a skin complaint you'd like to address, contact our experienced technicians to see if Lamprobe is right for you.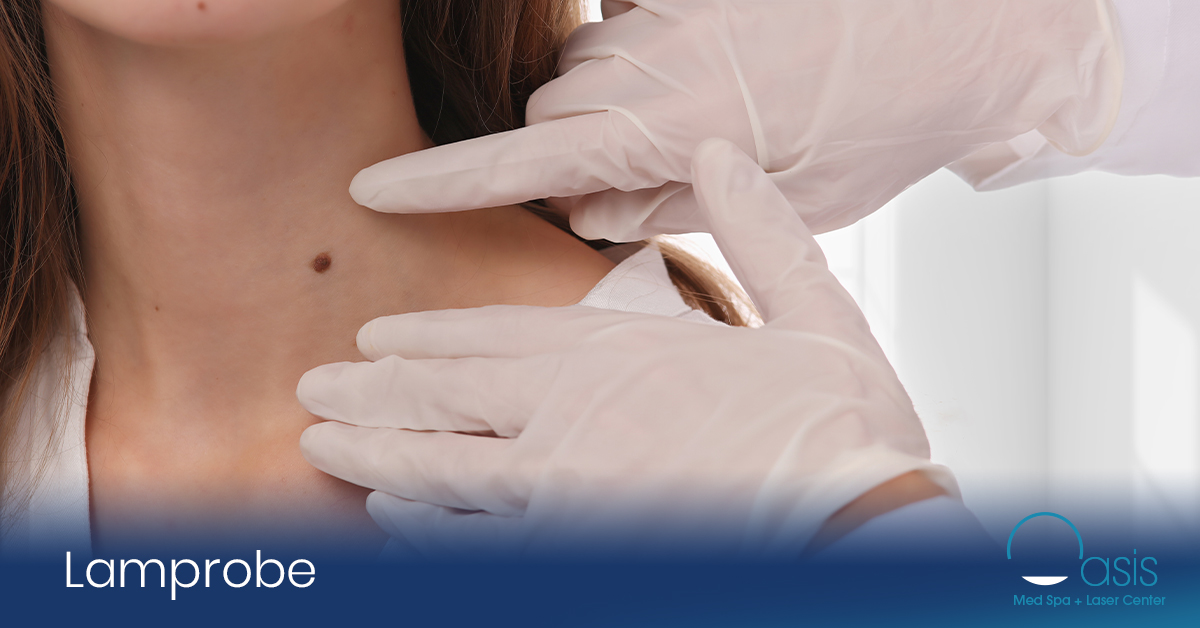 A Closer Look at the Lamprobe Treatment
Lamprobe is a non-invasive treatment that tackles common skin issues using a small probe-like instrument. This tool incorporates high-frequency radio technology to target specific areas on the skin. In as soon as five seconds per target area, the heat-emitting Lamprobe device works to remove bumps, lesions, tags and other irregularities. Clients often experience positive results within a week, though some conditions may require multiple treatments.
Skin Conditions Treated With Lamprobe
Our Dallas-based technicians regularly speak with people who are experiencing various minor skin concerns. After careful analysis, Lamprobe is often found to be the best solution for these issues, offering safe, fast and reliable results. Some of the minor skin issues treated with Lamprobe include the following.
Skin tags
Lesions
Age spots
Keratosis (raised skin bumps)
Cherry angiomas
Spider angiomas
Acne pimples
Fibromas (benign tumors)
Xanthelasma (cholesterol deposits)
Telangiectasia (broken capillaries)
Cysts
Clogged pores
Milia
Sebaceous cysts
Vascular lesions
At Oasis Med Spa and Laser Center, we provide many additional skin care med spa treatments beyond Lamprobe to help you improve the condition of your skin.
How the Lamprobe Procedure Works
The Lamprobe device is placed on the treatment area for five seconds.
The device emits heat using high-frequency radio currents.
Liquids on the skin's surface are attracted to the heat from the Lamprobe.
Moisture in the skin cells is vaporized, destroying the skin tag, lesion or bump.
Healthy skin replaces the dead skin cells, free of any scarring.
Benefits of Using Lamprobe Treatments
Med spa technicians and clients alike appreciate the many benefits of Lamprobe.
Non-surgical treatment for minor skin abnormalities.
Precise treatment method with the Lamprobe device.
Appropriate for all ages and skin types.
Quick and pain-free treatment with fast results.
It targets the surface of the skin without damaging the dermis.
Lamprobe is a targeted treatment for minor skin irregularities. For more extensive facial treatments that improve skin health and vibrancy, please be sure to speak with our skincare technicians.
Common Questions About Lamprobe
Lamprobe is a safe and painless procedure with little to no downtime. On rare occasions, patients may experience temporary redness, soreness or scabbing on the treatment area.
Lamprobe is a non-invasive treatment that is suitable for all areas of the face and body. This therapy can even precisely target small areas like the eyelids.
Results will vary depending on the type of skin complaint. In many cases results are immediate, though more complex conditions may take longer and require additional treatments.
Contact the Best Lamprobe Treatment Provider Near Me
At Oasis Med Spa and Laser Center, we use the Lamprobe treatment to quickly and effectively tackle skin tags, moles, lesions and other skin conditions. Our luxury med spa welcomes clients from Frisco, McKinney, Plano and across the Dallas Metroplex. Call (972) 250-9999 or request an appointment today.