Luxury Dallas Med Spa Services
Oasis Med Spa and Laser Center offers a complete range of rejuvenating and refreshing skin and body treatments. From our modern, luxurious med spa in Dallas, our team of licensed aestheticians and laser technicians delivers the very best in med spa services.
Since 2011, we have consistently provided the most innovative treatments using state-of-the-art equipment for our clients in the Dallas Metroplex. When you're ready to reach your beauty and well-being goals, our team is here to create a personalized treatment plan just for you.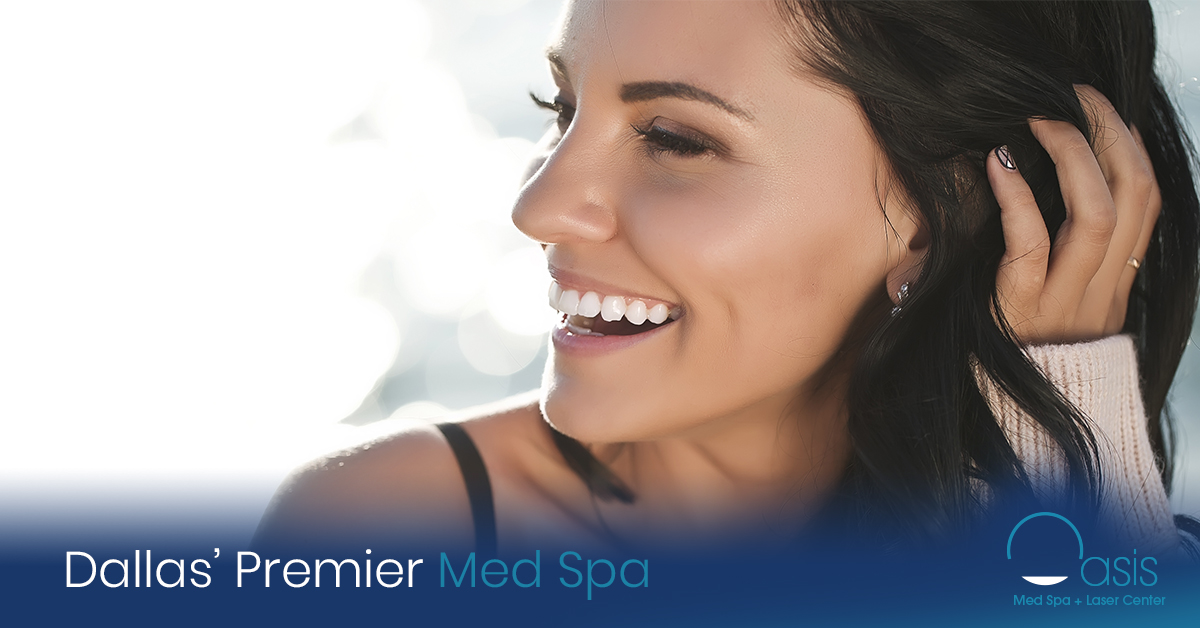 The Latest and Best Med Spa Services and Laser Treatments
From fine lines, acne and sun damage to unwanted fat, skin sagging and stretch marks, we have a carefully curated selection of skin and body treatments. By combining the latest cutting-edge cosmetic technology with time-tested beauty procedures, our clients can restore youthfulness and reach a new level of skin health and body confidence. Here are some of our most popular med spa services.
CoolSculpting is a non-surgical, non-invasive procedure for removing fat in targeted areas of the body. This FDA-approved treatment works by freezing fat cells from beneath the skin. A stubborn buildup of fat below the chin, in the mid-section (stomach, flanks and lower back), on the thighs and the arms often won't go away – even after weight loss. But with the CoolSculpting procedure, our technicians freeze and kill fat cells for a contoured physique.
At Oasis Med Spa and Laser Center, we offer a range of cosmetic injectable treatments for smoother skin, reducing fine lines and wrinkles and increasing volume. Some of the most popular brands and products we use include Botox®, Dysport®, Juvéderm® XC and Juvéderm® Vollure™ XC, Restylane®, Restylane-L® and Kybella®. Each injectable and dermal filler solution provides different results, from reduced brow lines and crow's feet to plump skin and enhanced shallow contours.
Our skin care experts create personalized treatments for glowing and radiant results. We use microdermabrasion, HydraFacials (hydradermabrasion) and VI peels to replenish lost collagen, improve skin texture and reinvigorate your complexion. If your skin could benefit from a rejuvenating boost, our HydraFacial solutions and facial spa treatments are just what you need.
A HydraFacial treatment cleanses, exfoliates and hydrates the skin, targeting dryness, imperfections and the signs of aging. The treatment uses a patented device to clean out pores and nourish the skin. In addition, clients can choose one of our top-rated VI peels to treat skin discoloration, acne, scarring, loss of volume and other skin concerns.
Microneedling is a safe cosmetic procedure that involves pricking the skin to stimulate collagen production. At Oasis Med Spa and Laser Center, our microneedling med spa services target wrinkles and stretch marks on the face and neck for a smoother and more voluminous appearance. Through a fast and minimally invasive procedure, microneedling helps to revitalize your skin using its natural healing abilities. This means clients can get a non-surgical facelift without needing significant recovery time.
Lamprobe is an innovative and non-invasive treatment for minor skin abnormalities. When clients visit our Dallas med spa to get skin tags, bumps or lesions removed, Lamprobe can quickly tackle the problem. By using Lamprobe the need for surgery can be eliminated. Lamprobe's radio frequency technology vaporizes moisture in the skin cells, causing the skin tag or lesion to eventually fall off.
At Oasis Med Spa and Laser Center, we offer a range of laser treatments from the comfort of our Dallas med spa. Intense pulsed light (IPL) photofacial therapy can reverse the signs of aging and provide improved skin color and texture. Similarly, laser skin tightening stimulates collagen production for a smoother, tighter, more radiant complexion. Our staff also uses laser hair removal to remove unwanted hair on the face and body.
Laser therapy is also an important solution for persistent nail fungus. The toenail fungus laser treatment uses localized heat to reach the fungus present on the nail bed. Using this FDA-approved treatment, our expert laser technicians target the infected area without damaging the healthy skin and nails.
Common Questions About Med Spa Services
As they use advanced non-surgical technology, most of our med spa services will require little or no downtime. Laser treatments, peels, cosmetic injectables and other services can often be completed during a lunch break.
There are various types of quality anti-aging treatments, such as microneedling, cosmetic injectables (like Botox), chemical peels and laser skin tightening. A consultation at our Dallas med spa can identify the best option for your skincare goals.
Microneedling, HydraFacial, IPL therapy and other facial spa treatments help stimulate collagen production, while also providing additional skincare benefits. Our staff can recommend the appropriate treatment after determining your personal beauty goals.
Visit the Best Med Spa in Dallas
Oasis Med Spa and Laser Center provides innovative and rejuvenating med spa services for clients in Dallas, Carrollton, Frisco, Plano and the surrounding cities. For a first-class beauty and wellness experience, contact our Dallas med spa by calling (972) 250-9999, or request an appointment now.