Dallas CoolSculpting Med Spa Treatment
At Oasis Med Spa and Laser Center, we use CoolSculpting® to target stubborn fat cells in problem areas. This non-surgical med spa service will help you look younger and feel great.
The CoolSculpting cosmetic procedure is a safe, non-invasive and FDA-approved treatment for visible fat bulges that requires no surgery or recovery time. From our luxurious Dallas med spa, our highly skilled and trained technicians use controlled cooling technology to eliminate unwanted fat cells from your body. If you're struggling to reach your ideal physique, harness the power of the cold with CoolSculpting treatment.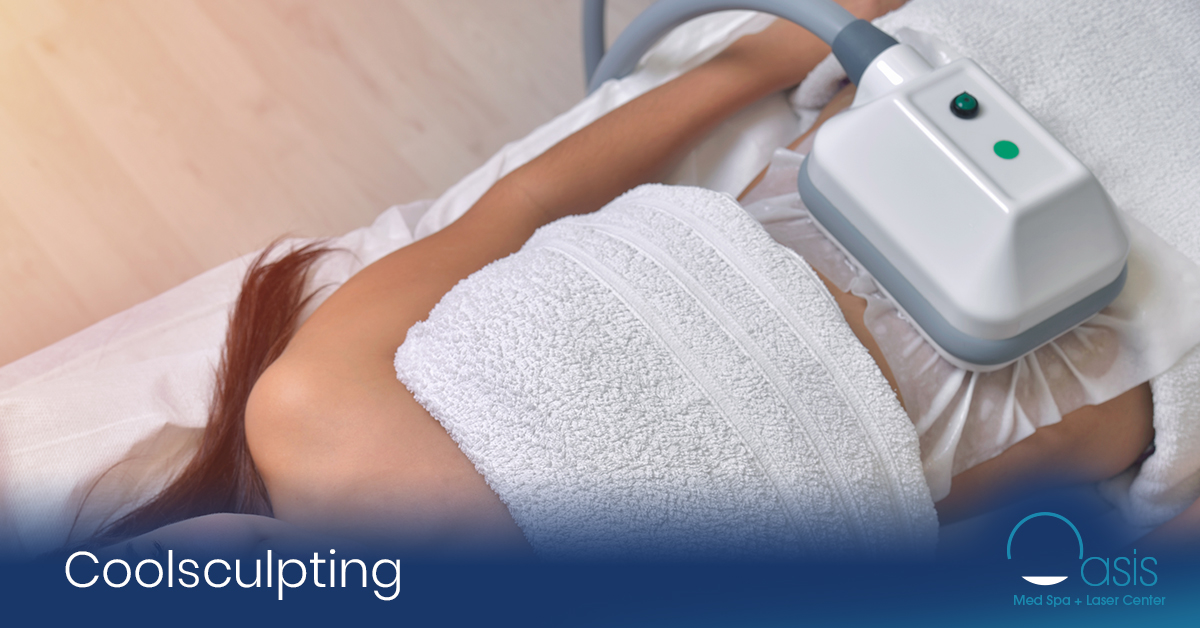 CoolSculpting Procedure for Fast Fat Removal
Working out and eating a healthy diet is a great way to get in shape. But even with discipline and hard work, stubborn fat on the stomach, flanks, chin, arms and other areas can stay firmly in place. CoolSculpting is the answer to this problem.
Developed by doctors at Harvard Medical School, the treatment uses cryolipolysis (fat freezing) to remove fat deposits that are resistant to diet and exercise.
CoolSculpting Treatment Areas
At Oasis Med Spa and Laser Center, we use CoolSculpting to target cells in many regions of the body. The treatment delivers a body transformation in the following areas and more.
Below the jawline
Under the chin
Flanks or love handles
Stomach
Lower and upper back
Buttocks
Thighs
The procedure targets only fat cells under the skin, ensuring your skin stays healthy and vibrant.
The CoolSculpting Treatment Process
A technician places a gel pad on the target zone to protect the skin, and applies a CoolSculpting applicator over the top of the pad.
Vacuum suction draws the tissue into the applicator and cold temperatures kill the subcutaneous fat cells. This process lasts around 30–60 minutes.
The treatment is non-invasive and requires no downtime. Dead fat cells are naturally and safely metabolized by the liver over approximately four to six months.
Common Questions About CoolSculpting
In most cases, one or two CoolSculpting treatments will reduce the fat layer and create a smoother and firmer physique.
Results from a CoolSculpting treatment are usually seen from one to three months after treatment. However, it may take up to six months to see the finished results after all fat cells are eliminated.
While CoolSculpting is not a painful procedure, it may cause mild discomfort during the initial stages. Most patients experience a minor pinching or tugging sensation within the first 10 minutes.
Find the Best CoolSculpting Near Me
Oasis Med Spa and Laser Center is the leading provider of CoolSculpting in the Dallas Metroplex. We help clients in Dallas, Frisco, Plano, McKinney and the surrounding areas reach their skin and body goals. To find out more, call (972) 250-9999 or request an appointment today.