Dallas IPL Photofacial Med Spa
At Oasis Med Spa and Laser Center, our skilled technicians use the latest IPL Photofacial technology to erase skin damage and signs of aging while improving skin tone and texture. IPL Photofacial therapy is one of the laser treatments we offer at our Dallas med spa.
An intense pulsed light or IPL Photofacial is a non-invasive treatment for acne scarring, age spots, skin discoloration, spider veins, sun damage and many other skin conditions. Also called photorejuvenation for its skin-renewing qualities, you can fit IPL therapy into your busy schedule for a fast and painless skin transformation.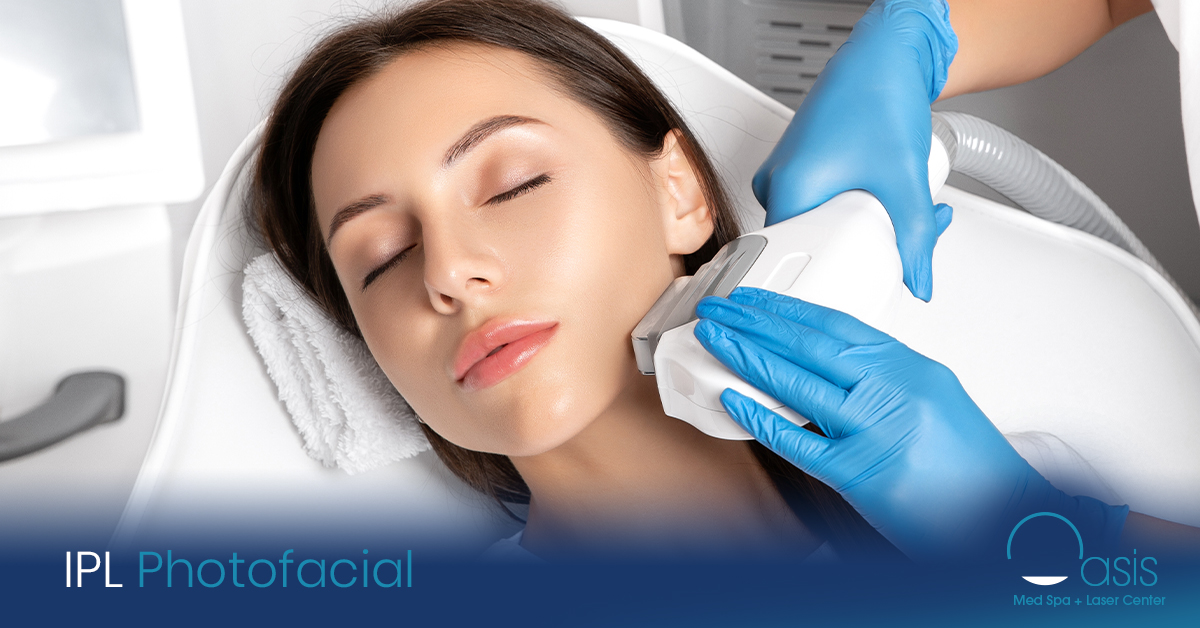 How IPL Photofacials Work
Unlike other laser treatments, an IPL Photofacial uses broad spectrum light and targets multiple layers of skin. The pulsed light causes microscopic tears on the skin's surface and deeper layer (dermis) to stimulate the body's natural healing properties.
After treatment your body naturally sheds the damaged skin, resulting in a smoother, healthier, blemish-free complexion. Simultaneously, the pulsed light boosts collagen and elastin growth, delivering a plumper, more youthful appearance.
Get youthful, rejuvenated skin.
Stimulate collagen growth.
Repair blood vessels.
Target bacteria-causing acne.
Prevent premature aging.
Treat sun damage.
Target multiple skin conditions at once.
The IPL Photofacial Process
Visitors to our luxury Dallas med spa are treated to a premier cosmetic beauty experience with our experienced laser technicians. We customize treatments for the needs of each patient, but a 30–60 minute IPL Photofacial usually contains the following steps.
An assessment to identify skin type and condition.
Clients put on protective glasses, and a gel is applied to the skin.
A handheld device emits high-intensity light into the treatment area.
Clients see visible improvements but require 3–6 treatments for optimal results.
Nourishing cream from Cvara Botanicals protects the skin from irritation.
Ask our aestheticians about our range of laser treatments and other med spa services for treating your specific skin conditions.
Common Questions About IPL Photofacials
Results vary depending on skin condition and the severity of the issue. In most cases, results last for six months to one year if patients take care of their skin. One or two maintenance treatments each year are essential for stimulating collagen growth and extending the positive results.
There is no real downtime after an IPL Photofacial. Patients may experience redness for a few hours after treatment that could potentially extend over a few days. However, moisturizing your skin will reduce soreness.
Yes. IPL Photofacials are safe and any side effects are mild. Our laser technicians use state-of-the-art equipment and the best techniques during therapy.
Leading Intense Pulsed Light Therapy in Dallas
Oasis Med Spa and Laser Center provides IPL Photofacials and other skin care treatments using state-of-the-art cosmetic beauty technology. Our laser technicians work with clients in Frisco, McKinney and the Dallas Metroplex to deliver exceptional skin care results. To visit our Dallas med spa, call (972) 250-9999 or request an appointment now.