Hydrafacial in Dallas, TX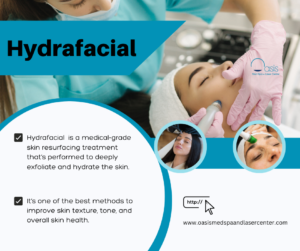 Hydrafacial in Dallas, TX, is a medical-grade skin resurfacing treatment that's performed to deeply exfoliate and hydrate the skin.
It's one of the best methods to improve skin texture, tone, and overall skin health. It helps to bring out the shine in your skin while also improving the health of your skin.  Continue reading to discover more about Hydrodermabrasion or Aqua Peel or Hydrafacial in Dallas, TX.
What is Hydrafacial?
This treatment is a cosmetic procedure whose process involves deep cleaning of the skin, exfoliating, and hydrating the skin.
It involves the use of a medical-grade hydra dermabrasion device that performs a patented three-step process which includes deep cleaning the skin, exfoliating the skin, and infusing hydrating serums into the skin.
The hydra dermabrasion device gently vacuums out pores and blemishes from the skin while also infusing hydrating serums into the skin to moisturize, brighten, and plump the skin.  
During Hydrodermabrasion, the face is thoroughly cleaned with a vortex-like wand to get rid of dirt and oil from deep within the pores.
After all the debris is removed from the face, the skin is then moisturized by infusing moisturizing serum with anti-ageing antioxidant properties to deeply hydrate the skin and get rid of impurities to produce smoother and more radiant skin.
In comparison with other skincare treatments, this procedure is more relaxing and also acts as a light massage on the face. It doesn't cause skin irritation or redness, so it doesn't require extensive downtime.
Benefits of Hydrafacial
One of the major benefits of this treatment is that it can improve the appearance of the skin. It does this by cleaning off the dirt on the skin and brightening the complexion of the skin, making it much clearer than before.

Another benefit is that all of the steps involved in the process are of great benefit to the skin. The initial cleansing helps to get rid of dirt and germs from the skin, the exfoliation helps to clear out skin blemishes, while the infusion of the serum helps to deeply hydrate the skin, moisturize the skin, and improve its appearance of the skin. 

Hydrafacial in Dallas, TX, can be used to address various skin issues such as blackheads, acne, pigmentation, sun damage, pimples, wrinkles, rosacea, and signs of aging. It is an effective treatment for these various skin concerns.
Testimonials From People Who Have Had Hydrafacial in Dallas, TX
The testimonials and reviews from people who have had this treatment have shown that the treatment is indeed very effective. 
Below is a testimonial from a client who had a hydra facial in Dallas, TX.
"The treatment had immediate effects and I immediately felt rejuvenated. My skin looked more hydrated than ever. I also love the fact that the procedure is gentle on the skin."
Who Is A Candidate For Hydrafacial in Dallas, TX?
Individuals of all ages and skin types are a good fit for this treatment. This treatment can easily be customizable to suit individual needs making it a perfect fit for skins of various complexions.
Whether it's acne, breakout, hyperpigmentation, wrinkles, or sun damage that you're looking to treat, Aqua Peel makes a good treatment option.
There are certain contraindications you should look out for. People with rashes, rosacea, and active sunburns should avoid this treatment. Pregnant women are also not ideal candidates for this treatment. 
How Does Hydrafacial Work?
This treatment utilizes a special vortex fusion delivery system to both deeply exfoliate the skin and deliver nutrients into the skin. This procedure improves skin texture and tone. It allows for more improved penetration of skincare products to your skin.
The technology used in this process utilizes a patented technology that combines hydro-dermabrasion with vortex fusion technology.
Tips For Preparing Your Skin For The Treatment
Discontinue the use of isotretinoin products six months before your appointment.

Avoid unnecessary exposure to the sun for about 72 hours before your treatment.

Discontinue-the-counter acne medications such as benzoyl peroxide.

Avoid shaving your days a few hours before the appointment to prevent skin irritation.
Post-treatment Care Instructions
Protect yourself appropriately from unnecessary sun exposure.

Avoid using exfoliating products for hours after your treatment.

Stay away from peel treatments and laser treatments after this procedure for at least two weeks.

Avoid intense heat for about 24 hours after the treatment.
What To Expect During The Recovery Process
It's a procedure that requires no downtime and the recovery process doesn't take much time. This treatment doesn't take much time and you can resume your regular activities after the treatment.
But you should avoid intense workouts, and stay away from saunas and hot tubs during your recovery process.
The procedure of Hydrafacial in Dallas, TX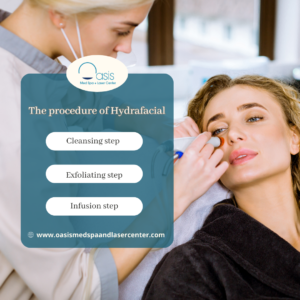 Cleansing step
The face is properly cleaned to remove all dirt and germs that can cause a series of skin concerns.
Exfoliating step
The exfoliation is done to deeply clean the skin and remove all impurities from the outer layer of the skin. The dead skin cells are removed from the outer layer of the skin to leave the skin fresher and more radiant.
Infusion step
This is the last step of the procedure. It involves the infusion of boosters and serums into the skin to treat hyperpigmentation and minimize wrinkles and fine lines.
What To Expect During The Procedure
First, a mix of salicylic and glycolic acids will be applied to your skin. The acids break up blemishes and dirt that are clogging your skin pores. 

Next, a device with a vortex-like attachment will be used to deep clean your skin and remove sebum from the deep pores. Dead skin cells and dirt are also removed from the surface of your skin.

Next, a vacuum-like attachment is used to extract debris from deep within your pores. The vacuum-like attachment exfoliates and sucks out all the junk and impurities from within your pores.

Lastly, a pen-like attachment is used to infuse moisturizing and nourishing serums deep within your skin. The serum contains anti-aging and antioxidant properties which help to hydrate the skin from deep within and improve the appearance of the skin.
Realistic Expectations For The Outcome of The Treatment
You should expect cleaner and fresher skin along with a brighter complexion.

The procedure also improves the texture and tone of the skin.

You should also expect to achieve a well hydrated and healthier skin.
Are There Any Side Effects?
This facial treatment is a safe and low-risk cosmetic procedure. The potential risks or side effects include active rash, acne, rosacea, irritation, bruising, and mild redness.
There are a few ways to minimize discomfort during the treatment which include preparing for the treatment properly and getting a skilled and experienced provider for the procedure.
Ensure you adhere to the dos and don'ts before and after the treatment to minimize side effects.
How Much is the Cost of Hydrafacial in Dallas, TX?
The average cost is $200 per treatment session. Factors affecting the cost of the treatment include location, customized treatment options, and provider.
The treatment cost is an out-of-pocket expense that isn't covered by insurance but there are different financing options available to make it easy for you to get one. Financing options range from Cherry and CareCredit.
FAQs
How often should you get a Hydrafacial?
You can get this treatment every four to six weeks to maintain your results.
Is Aqua Peel painful?

It isn't painful and it's a minimal-risk procedure. All the devices used for the treatment are gentle on the skin.
How long does Hydrodermabrasion treatment take?

This treatment is a quick facial treatment. It doesn't take up to an hour to complete.
Can I wear makeup after a Hydrodermabrasion?

It's highly recommended to wait until a day after an aqua peel treatment before you start wearing makeup again.
Is Hydrodermabrasion safe for all skin types?

Yes, it's safe for all skin types. Even the most sensitive can easily tolerate this facial treatment.
How can I maintain the results of my Aqua Peel treatment?

You can maintain the results of this treatment by using sunscreen and by avoiding chemical peel and laser treatments for two weeks after the aqua peel treatment.
Will I see immediate results after a Hydrafacial?

You can start observing noticeable results a week after your appointment.
Can I get a Hydrafacial if I have acne?

Yes, you can get one even if you've acne. The treatment treats acne effectively.
Oasis Medspa and Laser Center: Best Medspa To Get Hydrafacial In Dallas, TX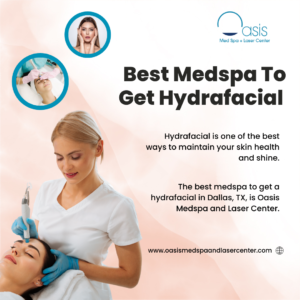 Hydrafacial is one of the best ways to maintain your skin health and shine. The best medspa to get a hydrafacial in Dallas, TX, is Oasis Medspa and Laser Center. Our treatment is customized according to individual skin concerns and desired results.
We offer premium treatments and services and our treatment process starts with initial consultation with our skin care specialist. We provide advanced technology for the infusion of serums and nutrients that align with your skin concerns and goals.
Visit us today or schedule an appointment to get started with your treatment.