Laser Hair Removal in Dallas, Tx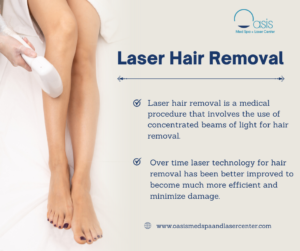 Laser hair removal in Dallas, Tx, is a medical procedure that involves the use of concentrated beams of light for hair removal. It includes the removal of unwanted hair in different parts of the body. This technology was invented by Theodore Maiman in 1960.
The earliest laser was designed to destroy hair follicles although it wasn't as efficient and slow it was able to minimize the growth of hair. The risk associated with the earliest treatment method includes severe burns and extreme damage. 
Over time laser technology for hair removal has been better improved to become much more efficient and minimize damage.
During laser hair removal, the laser emits light energy that's absorbed by the melanin pigment in the hair. The light energy absorbed is then converted to heat energy which destroys the hair follicles. The damage done to the hair follicles works by inhibiting future hair growth.
Advantages of Laser Hair Removal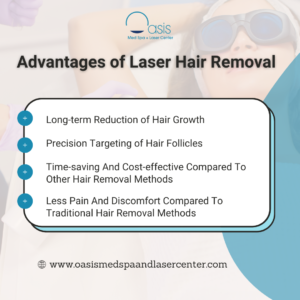 Long-term Reduction of Hair Growth
One of the main advantages is that it helps with the long-term reduction of hair growth. The process involves the destruction of hair follicles to remove unwanted hair and minimize the rate at which hair grows in the future.
Precision Targeting of Hair Follicles
Another advantage of using lasers for hair removal is their precision targeting of hair follicles. Laser highly targets hair follicles with high precision to make the destruction of the follicles rapid and easy.
It doesn't matter the area of the body you're looking to use laser treatment for hair removal, as it can do the work.
Time-saving And Cost-effective Compared To Other Hair Removal Methods
Laser technology hair removal is also known to be time-saving and cost-effective much more than other alternatives for hair removal. 
It's an extremely quick method to remove unwanted hair from the body. Although it requires more than one treatment session, a session takes only a few minutes. It also helps that it's a much more affordable option for removing unwanted hair.
Less Pain And Discomfort Compared To Traditional Hair Removal Methods
Another benefit you get when compared to alternative traditional methods is that only minimal pain and discomfort are associated with the procedure.
You may feel a certain degree of pain and discomfort when it comes to laser hair removal but it can easily be endured depending on your tolerance to pain.
Preparing for Laser Hair Removal 
Below are the preparatory steps for laser hair removal treatment:
Consultation With A Licensed Professional
The first step to take in preparation is consultation. This is a very important step so the provider can know what areas the laser is to be used for and your desired results.
Avoiding Sun Exposure And Tanning Before Treatment
It's also essential to avoid unnecessary sun exposure and tanning in preparation for the treatment. This is because sun exposure and tanning can make the skin hypersensitive to lasers resulting in complications including more pain and skin damage.
Shaving The Treatment Area Before The Procedure
Another thing to do in preparation is to shave the area to be treated before going for your laser appointment. It's essential to shave the treatment area 24 to 48 hours before the laser procedure. This should be done to decrease the chances of burns on the skin.
Avoiding Certain Medications Before Treatment
It's also important to avoid certain medications, including blood-thinning medications, in preparation for laser hair removal.
During your consultation, you should inform your provider about your current medications to avoid certain medications that can interfere with your laser procedure. Some medications can increase skin sensitivity and complicate the procedure.
Once you've discussed your medications with the provider, the treatment will be adjusted accordingly for maximum results.
Avoid Certain Treatments
Treatments such as plucking, waxing, and electrolysis should be avoided for at least six weeks before your treatment.
Lighten Your Skin
You will need to lighten your skin if you have tan or darker skin. Your skin specialist may recommend a bleaching cream that you can use to lighten your skin before your treatment.
The Laser Hair Removal Procedure in Dallas, Tx
Step-by-step Explanation of The Process
Application of a topical anaesthetic to the skin before the procedure starts to minimize discomfort.

The eyes are protected by wearing special goggles.

A cold gel is applied to the outer skin to protect the skin and minimize the side effects.




An intense pulse of light is concentrated on the treatment area using a laser device. 
What To Expect During The Procedure
During your laser treatment for hair removal, you'll be given special goggles to wear to protect your eyes. If the hairs have started growing back in the treatment area, the hairs will be shaved off. 
Next, a numbing topical anaesthetic may be applied to your skin 20-30 minutes before the treatment begins to reduce pain and discomfort.
The laser device will be adjusted according to the colour and thickness of your hair, the colour of your skin, and also the area of the hair being treated. A cooling gel or special cooling device may also be applied to your skin to protect your skin from pain or damage.
Finally, the laser device will be pressed to your skin and activated. The laser beam from the laser device passes through your skin into the hair follicles. The heat from the laser beam gets into the hair follicles and damages the hair follicles. 
Pain Management Techniques
You can consult with your doctor to know about the over-the-counter pain reliever medications to use to minimize discomfort during this procedure.

Shaving before going for your laser appointment can also help you manage the pain associated with the procedure.




Avoid scratching the treatment area after the procedure.




The application of cold compresses or ice in the treatment area can also help minimize pain.
Aftercare and Maintenance
Post-treatment Care Tips
Stay away from unnecessary sun exposure for at least 2 weeks after your laser treatment.

Keep the area clean after the treatment with mild soap and pat dry instead of rubbing.

Apply prescription creams as directed by your provider to minimize discomfort.

Avoid hot baths and hot showers for at least 48 hours and avoid spas, steam rooms, and saunas for at least 7 days following your treatment.

Avoid scrubbing the treated area and avoid exercising for at least 48 hours following your treatment.

Avoid swimming for 48 hours following your treatment.
Follow-up Treatments And Maintenance Schedules
Attend all your scheduled maintenance or follow-up treatments timely to maximize your treatment results.




You will need to have 2 to 6 sessions to see maximum results.
Potential Side Effects And How To Manage Them
Skin irritation.

Blistering.

Pigment change.

Scarring.
All these side effects can be significantly minimized if you adhere strictly to the pre and post-treatment care tips.
Cost of Laser Hair Removal in Dallas, TX
The average cost is about $400 per session. The factors affecting the cost of treatment include the size of the treatment area, hair density, hair texture, skin type, and the provider.
The average cost of a laser treatment session is much more affordable than some of its other alternatives but the series of treatments can increase the cost of the treatment. 
Who Can Benefit from Laser Hair Removal in Dallas, TX?
A wide category of people can take advantage of laser treatment for hair removal.
Some of these include people with excessive hair growth, people with sensitive skin that's prone to irritation from other hair removal methods, and people with dark or coarse hair which is difficult to remove using traditional methods.
FAQS
What areas of the body can be treated with laser hair removal?
Areas in the body you can treat with laser include the bikini area, arms, face, legs, backs, chest, and underarms.
How many treatments are needed for effective hair removal?
You need about two to six laser treatment sessions for maximum hair removal results.
Is laser technology for hair removal permanent?
It's not permanent. The damaged hair follicles will recover over time and hair will begin to grow again. You will need to schedule follow-up and maintenance appointment sessions to maintain your results.
Can laser hair removal be performed on all skin types and hair colours?
Yes, it can be performed on all skin types and hair colours but it's best on lighter skin colours.
Is laser hair removal painful?

It is a relatively painless treatment. Local anaesthesia and a cooling agent are applied to your skin to prevent you from feeling pain.
How long does the laser session take place?

The treatment session takes less than an hour to be completed.
How do I choose the right provider for laser hair removal in Dallas, Tx?

You can choose the right provider in your location by researching their qualifications and experience.
How can I maintain my results after having laser technology for hair removal?

You can maintain your results by going for follow-up treatments and adhering to all aftercare instructions. 
What is the recovery time after laser hair removal?

You can easily recover from this treatment within a day to three days.
Oasis Medspa and Laser Center: Best Medspa To Get Laser Hair Removal In Dallas, Tx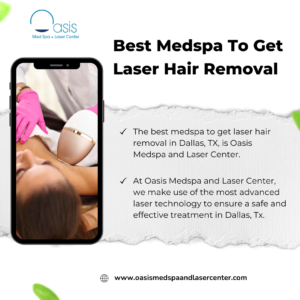 The best medspa to get laser hair removal in Dallas, TX, is Oasis Medspa and Laser Center. At Oasis Medspa and Laser Center, we make use of the most advanced laser technology to ensure a safe and effective treatment in Dallas, Tx. 
If you want an effective, safe, comfortable, and long-lasting method to remove unwanted hair from various parts of your body, we encourage you to visit us at Oasis Medspa and Laser Center.