Laser Hair Removal in Dallas, Tx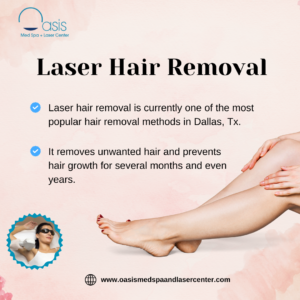 Laser hair removal is currently one of the most popular hair removal methods in Dallas, Tx. It removes unwanted hair and prevents hair growth for several months and even years. It's a convenient treatment that requires little to no downtime.
It offers superior advantages over other hair removal methods. It offers effective results when performed by a licensed professional. Besides getting good results, working with a professional also minimizes complications that could arise due to a lack of proper skill and knowledge regarding hair removal.
In this article, we will explain the superior advantage of laser hair removal treatment and how you can get it done in Dallas.
Detailed Overview of Laser Hair Removal 
This removal involves using laser light to eliminate the unwanted body. During removal, the laser emits light energy which is absorbed by the skin pigment. The light energy is converted to heat which damages the hair follicles and prevents the growth of new hair.
The science behind laser hair removal
The science behind hair removal technology is the principle of conservation and energy conversion from one form to another. Light energy from a laser is converted to heat, another form of energy. The heat destroys hair follicles right from the root.
Types of lasers used in hair removal in Dallas, Tx
Diode Hair Removal Lasers
The laser technology uses diodes as its energy source for hair removal. LaserLite and Epistar are popular diode hair removal lasers.
Ruby Hair Removal Laser
The first set of systems. It's used for small areas in the body, and it's the most suitable for people with dark skin tones.
IPL Hair Removal
Epilight and PhotoDerm are some IPL systems used for hair removal. IPL system doesn't utilize true lasers, but it's equivalent and works just like other types of removal treatment
Advantages of Laser Hair Removal
Long-term Cost Efficiency
Laser costs about $600 on average per treatment session. While it may seem a bit much, the methods offer longer-lasting results, such as it becomes the more cost-effective option in the long run.
The economic benefits of laser hair removal
It doesn't require a high budget. Getting this removal treatment means you won't need to put money aside to have the treatment all the time. The treatment prevents hair growth for several months or even years.
Precision and Effectiveness
Laser technology works by focusing and targeting hair follicles in the treatment area. Its precision is seen well in the results after removing the hair in the treatment area. This removal is effective on different hair and skin types. A single treatment can reduce hair in the area by 15%, which increases significantly after multiple sessions.
Time Efficiency
This is time efficient. It takes about 30 minutes to start and complete the procedure. Electrolysis, waxing, threading, and even shaving take longer than hair removal.
Minimal Side Effects
When you get your treatment done by a professional, you wouldn't have to worry about unnecessary side effects. Side effects of hair removal are minimal compared to other hair removal methods. Most of the other hair removal treatments have more serious side effects than shaving. Shaving can cause itchiness and ingrown hair, and the results don't last. Waxing can cause burns, skin irritation, red bumps, and ingrown hair.
Long-lasting Results
These removal systems are designed to remove hair from their root to inhibit new hair growth. It offers a semi-permanent condition as hair follicles are often only damaged not destroyed completely.
Testimonials and case studies showing long-lasting results
Testimonials from people with laser hair removal have shown that the treatment is long-lasting. Below are some testimonials to show that hair removal provides long-lasting results;
"I've always struggled with my underarm hair and bikini line and wearing shorts on holiday to cover my bikini line. With just two treatments, I saw a huge difference and completely blew me away with how good my skin looked, much better without the hair."
"I've always known the shaving stick wasn't working for me as hair grows back within three days. I tried waxing, but the appointment and working around my already busy schedule were time-consuming.  I decided to give laser hair removal treatment a trial. I've been loving the results for a while now."
Spotlight on Dallas: Why Choose Laser Hair Removal 
This hair removal is becoming increasingly popular in Dallas, TX. State-of-the-art equipment and modern laser technology are used for hair removal treatments for clients in Dallas.
Expertise and Excellence of Laser Hair Removal Medspa in Dallas, Tx
The expertise and excellence of the clinics in Dallas are great reasons you should choose Dallas for your treatment.
Below are some renowned medspa in Dallas and their services;
Oasis Medspa and Laser Center Dallas, Tx
Oasis Medspa and Laser Center is the best laser hair removal treatment medspa in Dallas, TX. Our services include: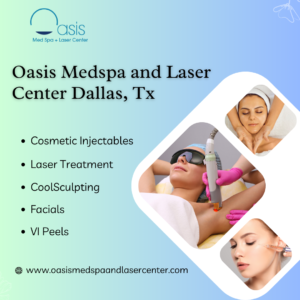 Cosmetic Injectables
Laser Treatment
CoolSculpting
Facials
VI Peels
D'Allure Medspa 
Services include:
Laser Hair Removal

Hair Restoration With PRP

Scar Removal 

Facial Peels

ICON Laser

Stretch mark Removal
Advanced Skin Fitness
Services include:
Micro-Needling with RF

Hydrafacial

PhotoFacial

Clear + Brilliant

Ultherapy

Vanquish Fat Reduction

Laser Hair Removal 
Professional Qualifications and Experience of Practitioners in Dallas
Laser Technician Training
Laser Technician certification.
Cosmetic Training.
Technological Advances in Dallas' Laser Hair Removal Industry
Latest laser technology available in Dallas
The MeDioStar®'s advanced laser technology
Candela's GentleMax Pro17 laser technology.
Modern  diode laser technology
Nd: YAG laser technology
Dallas is a pioneer in the hair removal industry
Dallas hair removal clinics are leading in the hair removal industry. This is because they utilize the most advanced and efficient laser technology to remove unwanted hair in their clients. With their adoption of advanced technology, there's been a significant increase in client satisfaction.
Customized Treatment Plans
The personalized approach of Dallas clinics to laser hair removal
This hair removal treatment in Dallas is developed to suit individual needs and concerns. Clients are examined to identify their concerns and needs before their laser treatments are developed.
Importance of customization for effectiveness and client satisfaction
Customization and personalization of treatment processes for hair removal are much more effective than any other approach. Using this approach provides more effective results, which boost client satisfaction.
Best Medspa to Get Laser Hair Removal in Dallas, tx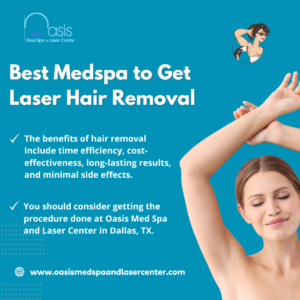 The benefits of hair removal include time efficiency, cost-effectiveness, long-lasting results, and minimal side effects. You should consider getting the procedure done at Oasis Med Spa and Laser Center in Dallas, TX. We offer exceptional laser hair removal treatments in Dallas, Tx.
Schedule a consultation session at Oasis Med Spa and Laser Center, Dallas, for your treatment.
Give us a call at (972) 250-9999
Our office is located at 4520 Frankford Rd, Suite 300, Dallas, TX 75287
FAQs
How many sessions are typically required?
You will need about two sessions to see the best results.
How long does a hair removal session usually take?
It usually takes about 30 minutes to an hour.
Are the results of hair removal permanent?
Results are usually not permanent but last for a long period of time.
Can hair removal be performed on all skin types?
Yes, this treatment can be performed on all skin types.
What preparations are needed before the treatment?
Protect the treatment area from sun exposure. Avoid shaving and waxing before your appointment.
How can I find a reputable clinic for laser hair removal in Dallas, TX?
There are a lot of good clinics for laser hair removal treatment in Dallas. You can find a reputable one by searching online or asking for referrals. Oasis Medspa and Laser Center is a reputable clinic for hair removal. We encourage you to book an appointment with us to get started with your treatment.
Are there any potential side effects of laser hair removal?
Yes, there are potential side effects but they can be greatly minimized if your treatment is provided by a licensed professional.
Can laser hair removal be used on any part of the body?
Yes, it can be used on any part of your body that you don't want hair.
Is this hair removal suitable for both men and women?
Yes, the treatment is suitable for both men and women.
How much does laser hair removal in Dallas, TX, typically cost?
It costs about $600 on average to get laser hair removal treatment in Dallas. It could cost less or higher, depending on the treatment area.
What is the difference between laser hair removal and other hair removal methods like waxing or shaving?
Lasers use light energy to heat hair follicles and destroy them to prevent hair growth. Hair pulls out from the hair follicles from the roots, while in other methods, hair strands are cut off from the level of the skin surface.
How long should I wait between sessions?
You should wait for about four weeks between sessions.