Dermal fillers in Dallas, Tx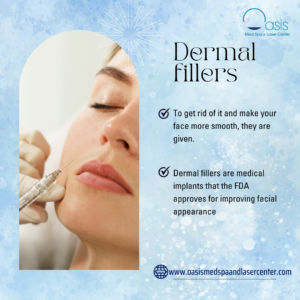 With age, the face starts losing its natural subcutaneous fat, which results in smile lines and crow's feet as the facial muscles get very close to the skin surface. To get rid of it and make your face more smooth, they are given. Dermal fillers are medical implants that the FDA approves for improving facial appearance, including nasolabial folds, chin, cheeks, lips, and back of hands.
However, These are naturally observed with time because they create the requirement of this procedure from time to time. The success of this procedure depends upon the underlying tissue structure, volume, and the type of filler used. And if a filler of good material is used, its effects last longer than usual.
Now, when it comes to Best Medspa to Get Treatment for Dermal Fillers in Dallas, Tx, then Oasis Med Spa & Laser Center is quite a famous one and very promising. We offer a variety of FDA-approved neurotoxins that temporarily improve moderately as well as severe lines and wrinkles on the face.
These are synthetic or naturally occurring substances injected into the skin to reduce the appearance of wrinkles and lines and restore lost facial volume.
These are injected underneath the skin to make the skin fuller and plumper. It can reduce the appearance of wrinkles and lines by filling and plumping up the tissue underneath the skin.
What You Should Know Before Getting Facial Fillers
To achieve the best results and reduce the risks of complications, there are certain things you should know before getting dermal fillers.
Check to ensure that the filler you want to use is FDA-approved for the exact purpose that you're using it for.

Be aware of the risks and potential side effects of using the fillers.

Read the filler ingredients carefully to know if you're allergic to any of the ingredients contained in the filler. Do not use filler if you're allergic to any of the ingredients in it.

If you're currently taking or have recently taken any medications, including supplements, inform your doctor or Medspa provider in Dallas, Tx.
Cost of dermal fillers in Dallas, Tx
There are many different brands of dermal fillers, and the cost varies. It's like Juvederm and Restylane cost $500-$600 per syringe. Radiesse costs over $700 per syringe.
The Good Side of Dermal Fillers
Help you look younger and more rested.
Dermal Fillers fill the fat in the lips and cheeks and smoothen the wrinkles and lines of the face. Because of this, your facial appearance becomes younger and well-rested. Also, it makes your skin naturally attractive.
Fillers are impermanent
The fillers are absorbed from the dermis over time, which makes the procedure impermanent. This has both advantages and disadvantages.
Also, if you don't like the difference after the procedure, it can be reversed using just another simple injection. This way, you can adjust your facial appearance according to your preference.
Pain in minimal
These Fillers are injected through a thin surgical-grade needle. So it causes minimal pain. In addition, the procedure is quite comfortable as a topical anaesthetic is applied to the affected area before injecting the Fillers.
Help to restore healthy collagen.
Our body reserves hyaluronic acid naturally in it, which diminishes over time. So, soft tissue fillers help stimulates the growth of the healthy collagen that makes your skin younger and healthy.
It can help to look young and beautiful.
The Fillers must be injected very carefully to obtain a youthful and attractive facial appearance. It pumps up the lip thinning and fills out the worn areas of the face. Also, it decreases the wrinkles and lines on the front, which makes it smoother.
The Bad Side of Dermal Fillers
Expensive.
There is no doubt that Fillers give promising results. But they are pretty expensive. Although there are options for financing available for the cosmetic product, and if it's paid within the promotional period, no interest is applied to it.
Cause bruising, swelling, and bleeding.
Even though soft tissue fillers are made of naturally produced components and do not produce any long-term side effects, it does cause some short-term side effects such as bleeding, bruising, and swelling.
Fillers are impermanent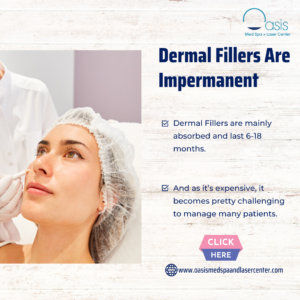 Fillers are mainly absorbed and last 6-18 months. And as it's expensive, it becomes pretty challenging to manage many patients.
What are the possible side effects of Dermal fillers?
Some common side effects of soft tissue fillers that happen at the area of injection are:
Swelling

Redness

Brushing

Pain

Rash

Itching
Apart from these, there are some rare side effects also caused are:
Leakage of filler from the site of injection

Infection

An inflammatory reaction to filler is called granulomas.

Blood vessel injury

Movement of filler from one area to another

Nodules around the injection sites that required surgical removal.

Blocked blood flow causes tissue death.
Risks of FDA-approved fillers
There are certain risks with this FDA-approved filler, which are:
People with inflamed skin should not use fillers.

People with bleeding disorders should not use fillers.

Do not use fillers if you are pregnant, breastfeeding, or under 18.

People with allergies to any filler ingredients should not use fillers.
FDA-approved uses of dermal fillers in Dallas, Tx
Soft tissue fillers are mainly recommended for people above the age of 22. It comes in specific uses, which are:

Increased volume of cheeks, chin, lips,

and back of the hand.

As fillers are temporary, they are used for moderate to severe facial wrinkles and skin folds, like nasolabial folds and perioral lines.

Permanent fillers are used only for nasolabial folds and acne scars on cheeks.

It is used to correct contour deficiencies like wrinkles and acne scars.
FDA warnings about unapproved fillers in Dallas, Tx
The FDA has warned the public and healthcare providers not to use unapproved fillers like hyaluronic pens or other lip and facial fillers. Several incidents of this severe causing damage to the skin, eyes, and lips have been reported.
These unapproved fillers are often sold to licensed healthcare providers and customers online, which becomes a critical health safety issue.
What precautions to take before getting filled?
To minimize the unwanted results of fillers, inject temporary fillers. This will help you understand how this cosmetic procedure works and whether to go with the permanent one or not.

Avoid using anticoagulant medication or random products, as their usage can cause swelling and bruising. Instead, apply an ice pack with firm pressure.

Do not perform repetitive or exaggerated movements during the first three days after the treatment.

Understand the brief recommended depths for injecting different products to avoid any back reaction from the injections.
Some myths and facts about dermal fillers in Dallas, Tx
Injecting fillers hurt
The filler is applied along with a numbing substance onto the skin's surface. And the primary purpose of the numbing substance is to minimize pain. So then, how can it be painful?
Fillers are irreversible
People often think that the result of facial fillers is a permanent alteration of the face and cannot be reversed. It's entirely untrue because it can easily be changed through a simple injection if you are unsatisfied with the look.
Filler stretch lips and skin
Fillers are temporary and do not cause any indefinite effect on the skin. Once it's absorbed, the skin will get back to normal.
Fillers are fake
Fillers give you a naturally attractive and smooth facial appearance. It never looks artificial.
FAQS
Can dermal fillers be dangerous?
The most dangerous risk of using fillers is the accidental injection into the blood vessel, which can cause stroke, blindness, or skin necrosis.
Which fillers are the safest?
Only a single filler is approved by the FDA and not absorbed by the body. It is created with polymethylmethacrylate beads suspended in a solution of bovine collagen.
What are the pros and cons of fillers?
Pros
Stimulate collagen

Create a youthful and attractive facial appearance.

Non-surgical procedure
Cons
Temporary results

Expensive

Has potential side effects.
Are fillers bad for you long-term?
If used excessively, these fillers can cause long-term damage to the skin, like lip wrinkles and skin aging quickly.
What happens when you stop getting fillers?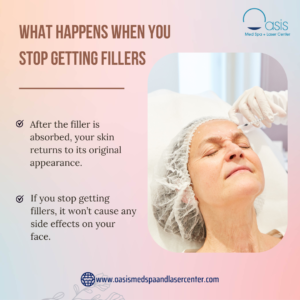 After the filler is absorbed, your skin returns to its original appearance. And if you stop getting fillers, it won't cause any side effects on your face.
How can you tell if someone has fillers?
If fillers of hyaluronic acid are used, it enhances the moderate features of lips, and the face may look very plump for a couple of days.
How long do dermal fillers last in the face?
It can last for three months to 18 months, depending on your skin texture and the exact product used.
What do fillers do for your face?
Fillers are used to plump up your face and reduce the appearance of wrinkles and fine lines. Some fillers can be used to augment your jawline and cheekbones and increase the fullness of your lips, cheeks, chin, and under-eye hollows.
Are fillers suitable for your face?
Yes! Fillers are generally safe and good for your face. Fillers can help reduce the appearance of wrinkles and lines on your face. It can be used to fill in facial fat loss.
Should I get fillers under my eyes?
Yes. You can have fillers under your eyes if you have a hollow appearance or you lack volume under your eyes. It can help fill in the hollow appearance and increase the fullness of your under-eyes.
What happens when fillers wear off?
Soft tissue fillers are absorbed gradually by the body over time. When the fillers are completely absorbed by the body, the area where the filler was injected may go back to the way it used to be. However, it can take several months or even more than a year for injected fillers to be completely absorbed. When fillers wear off, you may need to undergo a repeat treatment.
Can fillers stay forever?
Fillers don't stay forever. Fillers are metabolized and absorbed by the body over time. It could take as long as five years for some soft tissue fillers to be completely absorbed by the body. The results of fillers are long-lasting but not permanent.
Best Medspa to Get Dermal Fillers in Dallas, Tx
If you're looking for the best medspa to get dermal fillers in Dallas, TX, look no further than Oasis Med Spa & Laser Center. Our Medspa offers a variety of treatments and services that suit your individual needs, and our experienced Medspa staff will ensure that you get the best possible results.
Whether you're looking to improve the appearance of fine lines and wrinkles or you want to get rid of acne scars, our medspa can help you. Contact us today to schedule a consultation.