Botox Wrinkle Treatment in Dallas, TX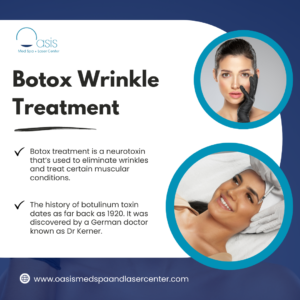 Botox treatment is a neurotoxin that's used to eliminate wrinkles and treat certain muscular conditions. The history of botulinum toxin dates as far back as 1920. It was discovered by a German doctor known as Dr Kerner. It was discovered that the neurotoxin causes muscle fatigue, and in small doses, it can be used to treat muscle spasms. It was first approved by the FDA for treating problems with the eyes but later in 2002, it was FDA-approved for cosmetic purposes in Dallas, Tx.
This marked the early beginning of its journey as a treatment for wrinkles. Although wrinkles are not harmful and are normal signs of aging, most people don't want wrinkles on their faces. Hence, they seek treatments to clear out their facial wrinkles.
This is a popular and effective botox treatment for wrinkles. It is used by men and women worldwide to eliminate or reduce the appearance of wrinkles on their faces to achieve a smooth and younger facial appearance.
Other Wrinkle Treatments
Botulinum toxin isn't the only treatment for wrinkles; there are other treatment options to explore to get rid of wrinkles. Some of these options include chemical peel, Dysport, laser resurfacing, Juvederm, facelift, and microneedling.
Botox for wrinkle treatments is minimally invasive as it only requires injecting the neurotoxin, unlike a facelift which requires an incision and microneedling that punctures the needle through the skin. It's also associated with mild side effects compared to the risk of complications associated with a facelift and laser resurfacing treatments.
Additionally, with injections, you get your results almost immediately after the procedure, which lasts for months. But with some of its alternative treatments, you will have to wait a few days or weeks to start noticing results.
Choosing The Right Provider
Some of the factors to consider when choosing a provider include:
Qualifications and License
This injection is a medical procedure that requires skill and knowledge to safely and appropriately administer it. It's important to choose a provider with formal training and certifications required to provide this treatment.
Qualifications of a good Botox provider include a bachelor's degree in pre-med and other related science courses, completion of a degree in the medical field, a license as a healthcare professional, and a basic training certificate. Ensure that you're choosing a licensed professional with experience in administering treatments. 
Medical Facility and Equipment
You should also check the medical facility, equipment, and technology the provider uses to provide treatments. If you choose a provider that doesn't have the right medical facility and equipment to safely and effectively administer botulinum toxin treatments, it can result in a series of complications, and you will not get good results.
Research the facility and environment of the provider you're considering to ensure that they are up to standard and of high quality before deciding to choose the provider.
Before And After Photos Evaluation
There's no concrete evidence to back up your potential Botox provider's efficient services other than checking and evaluating the "Before and After" photos of previously provided treatments.
Request the "Before and After" photos of clients who previously had treatments to see for yourself if the results are what you expect to achieve. This will allow you to make a better decision to choose the provider or not.
Risks of choosing an unqualified provider
Risks of choosing an unqualified provider include getting disastrous or undesired results and experiencing severe complications such as blockage of blood vessels, blindness, skin death, swelling, and severe pain.
Who Should Consider Botox
Age And Gender Requirements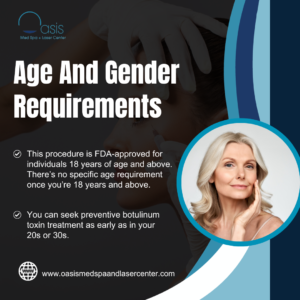 This procedure is FDA-approved for individuals 18 years of age and above. There's no specific age requirement once you're 18 years and above. You can seek preventive botulinum toxin treatment as early as in your 20s or 30s.
You can go for injections once you start observing noticeable wrinkles and frown lines. There's no gender requirement for botulinum toxin. Both males and females can get treatments.
Conditions that can be treated with Botox
Conditions that can be treated with Botox for wrinkles and lines, neck spasms, lazy eye, hyperhidrosis, overactive bladder, severe migraines, and muscle stiffness.
Factors to Consider Before Getting Botox Wrinkle Treatment in Dallas
Overall Health Status
Before getting Botox, you should share any health conditions you're suffering from with your provider to determine your eligibility and minimize the risk of severe side effects.
Cost
The cost of getting a Botox Wrinkle Treatment in Dallas, Tx, is an important factor to consider. Some providers provide treatment at higher prices than others. The cost of Botox injection varies depending on the number of units of botulinum toxin that you're getting, the expertise of the provider, and your location.
Be reminded that botulinum toxin is a cosmetic treatment, and it's not covered by insurance. This means that you will need to pay for the cost of your treatment out-of-pocket. Ensure that you know the exact cost of your treatment to know whether it's within your budget.
The Botox Provider
You should carefully evaluate the botulinum toxin provider you want to choose for their qualifications and experience. This is because choosing an unskilled injector will not only prevent you from enjoying the benefits of botulinum toxin but also expose you to a greater risk of complications.
FAQS
How long does a Botox injection last?
The injection results can last for three months up to six months.
Are there any long-term side effects of Botox?
The side effects associated with botulinum toxin are usually for a short period. 
Can botulinum toxin be used to treat excessive sweating?
Yes, It can be used as a treatment for excessive sweating.
Can I get Botox if I am pregnant?
It's recommended to avoid getting this treatment if you're pregnant.
Is botulinum toxin safe for all skin types?
This is safe for use on all skin types.
Best Medspa To Get Botox Wrinkle Treatment In Dallas, TX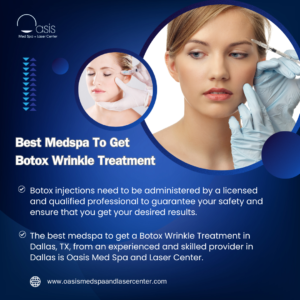 Botox injections need to be administered by a licensed and qualified professional to guarantee your safety and ensure that you get your desired results. The best medspa to get a Botox Wrinkle Treatment in Dallas, TX, from an experienced and skilled provider in Dallas is Oasis Med Spa and Laser Center. 
At Oasis Med Spa and Laser Center, we provide Botox treatments in a safe and controlled environment using modern equipment and advanced technology. 
Contact us or schedule an appointment to unlock the benefits of getting Botox treatment from a highly qualified and experienced professional.