Overview of IPL Treatment in Dallas, Tx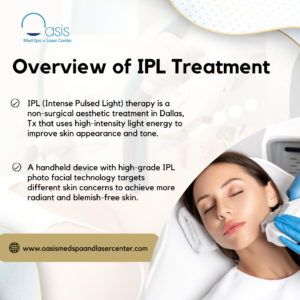 IPL (Intense Pulsed Light) therapy is a non-surgical aesthetic treatment in Dallas, Tx that uses high-intensity light energy to improve skin appearance and tone. A handheld device with high-grade IPL photo facial technology targets different skin concerns to achieve more radiant and blemish-free skin.
Why IPL is Becoming a popular treatment option
It's becoming a popular treatment option because of its wide range of benefits beside cosmetic benefits. Laser treatment also has medical, psychological, and a lot of other benefits. It also helps that it's a minimally invasive aesthetic treatment.
Detailed Explanation of IPL Treatment in Dallas, Tx
How IPL works: The science behind IPL therapy
IPL works by filtering light energy up to specific wavelengths to their absorption by the targeted body tissues. The Intense pulsed light heats collagen to promote photo rejuvenation and skin tightening. It's an extremely versatile, safe and effective treatment option.
Different types of IPL devices
The various types of IPL devices include
M22™ Universal IPL Device
This is a versatile and extremely cost-effective IPL device. The handheld device is designed for convenience and ease of use during an IPL photo facial treatment session. The Universal IPL handpiece allows you to change ExpertFilters in no time easily.
Venus Versa IPL Photorejuvenation Machine
This multi-applicator device allows you to use IPL therapy of the desired wavelength to treat numerous skin concerns. It's designed to allow consistent and precise delivery of IPL on specific target tissue. It features a cooling system to minimize patients' discomfort during the IPL Photofacial.
Applications and uses of IPL therapy
IPL therapy has numerous uses and applications ranging from treating vascular and pigmented lesions, hypertrichosis to acne, rosacea, actinic keratoses, and non-melanoma skin cancers.  It has a wide range of aesthetic and clinical applications.
50 Unprecedented Benefits of IPL Treatment
Cosmetic Benefits of IPL Photofacial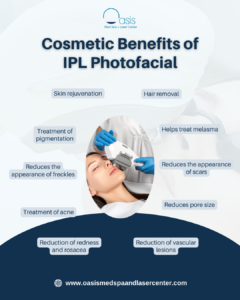 Skin rejuvenation
IPL therapy targets skin concerns. It revitalizes the skin, making it smooth and leaving you looking more youthful.
Treatment of pigmentation
IPL focuses intense pulsed light on sun spots and pigmentation. The therapy helps minimize the appearance of sun damage on the skin.
Reduces the appearance of freckles
IPL can also be used to lighten and reduce the appearance of freckles.
Reduction of redness and rosacea
Skin redness and rosacea can effectively be eliminated with IPL Photofacial.
Treatment of acne
Bacteria-causing acne can be destroyed using high-intensity light during IPL therapy session, which helps reduce acne outbreaks.
Reduction of vascular lesions
Vascular lesions are common skin abnormalities. IPL can be used to lighten and decrease the visibility of vascular lesions.
Reduces pore size
Focusing pulsed light on enlarged pores on the skin can help shrink their sizes significantly.
Reduces the appearance of scars
If you've acne or surgical scars you would love to get rid of, consider using IPL to get rid of them. IPL helps lighten the appearance of acne and surgical scars.
Helps treat melasma
IPL effectively treats melasma or chloasma spots.
Hair removal
IPL is a widely-used method for long-term hair removal. It removes hair and prevents the growth of new hair.
Medical Applications Benefits of IPL Photofacial
Treats skin conditions
Intense Pulsed Light treatment treats several skin conditions like rosacea, acne, and psoriasis.
Treats eye diseases
Certain types of IPL are used specifically to treat eye diseases like dry eye.
Non-invasive treatment
IPL treatments are non-invasive, unlike surgery. No cuts or incisions are made.
Can treat varicose veins
IPL is effective in treating small varicose veins and spider veins.
Reduction of inflammation
IPL therapy has been shown to reduce inflammation.
Aids in wound Healing
IPL can speed up the wound-healing process.
Can treat hirsutism
Hirsutism, a condition causing excessive hair growth in women, can easily be treated using IPL.
Treatment for Actinic Keratosis
Actinic Keratosis is a precancerous skin condition. This medical condition can be treated with IPL therapy.
Oncology applications
New studies have discovered the use of IPL in cancer detection and treatment.
It can be used in combination with other treatments
IPL is one of the aesthetic treatments you can combine with other treatments for more effective results.
Long-Term Effects
Promotes collagen production
These treatments stimulate the production of collagen, which helps achieve healthier and more youthful skin.
Prolonged results
The effects of treatments are long-lasting. The results can last for a long time ranging from several months to years.
Continued improvement
It doesn't only offer one-off improvement. The skin condition continues to improve for months, even after the treatment.
Prevents recurrence
IPL not only treats certain skin conditions, but it also prevents them from recurrence.
Lower hair regrowth
The treatment isn't the only time for hair removal. Multiple sessions of IPL can significantly minimize hair regrowth
Safety and Convenience
Minimal side effects
These treatments have minimal side effects when performed by a trained professional. It's not associated with severe risks like surgical treatments are.
Minimal downtime
It requires little to no downtime. Most people resume their regular activities instantly after an IPL session.
Quick sessions
Each IPL session typically lasts 20-30 minutes, depending on your skin condition and area of treatment.
Customisable treatment
The treatment parameters can be adjusted to suit individual skin types and conditions. It's not a one size fits all treatment.
No need for anaesthesia
Most people tolerate treatment without any anaesthesia. This helps avoid the risk associated with anaesthesia.
Psychological Benefits of IPL Treatment
Increased self-confidence
It can enhance skin appearance and boost self-esteem and confidence.
Satisfaction
This treatment offers good results. Many people report high satisfaction with the results of treatments.
Improved quality of life
It can improve the quality of life by addressing both physical and cosmetic concerns that hinder people from living their best life.
Positive impact on mental health
Improvement in physical appearance from IPL does wonders for your mental health.  It positively impacts mental health.
Social benefits
Improved appearance can have social benefits. It helps enhance your social life by allowing you to have better interpersonal relationships.
Relief from the discomfort of skin conditions
It can help relieve skin discomfort that you may be battling with.
Relief from the discomfort of skin conditions
The treatment helps treat certain discomfort you may be experiencing due to any skin conditions enhancing the overall quality of your life.
Eases anxiety and depression
Experiencing certain skin conditions may cause one to develop anxiety and suffer from depression. IPL treatment helps you treat the condition and ease the associated anxiety and depression.
Encourages better self-care
Regular IPL treatments can lead individuals to adopt healthier lifestyles and better skin care routines.
Promotes body positivity
As IPL addresses various cosmetic concerns, it can contribute to improved body image and positivity.
Provides a non-surgical solution
For individuals hesitant about surgical procedures, IPL offers an effective non-surgical alternative, thereby offering psychological comfort.
Comprehensive IPL Photofacial FAQs
What is IPL Photofacial?
It uses intended pulse light therapy to treat skin concerns and imperfections.
How does it work?
It works by targeting specific areas with high-intensity light energy.
What conditions can be treated with IPL?
The conditions that can be treated with IPL include melasma, rosacea, hyperpigmentation, sun discolorations, and dark spots.
How is IPL different from laser treatments?
IPL produces a broadband spectrum of light, while laser light is monochromatic.
Is IPL Photofacial safe?
Yes, it's safe.
What are the side effects of IPL treatment?
Side effects of this treatment include pain, redness, swelling and bruising.
How effective is IPL Photofacial?
The procedure's effectiveness depends on certain factors, but generally, it's about 90% effective.
Are the results of IPL treatment permanent?
It's not permanent, but it lasts for a long time.
How long does an IPL treatment session take?
It takes about 30 to 90 minutes.
Is IPL treatment painful?
No, but it's slightly uncomfortable.
What should I expect during an IPL treatment session?
You should expect the provider to target areas on your face with light pulses. It's not painful for some people, while others report a slight pinching sensation.
How many IPL treatment sessions will I need?
You will need 2 to 4 treatment sessions.
How much does IPL treatment cost?
It costs $300 to $700 per treatment session.
Does insurance cover IPL treatment?
They mostly have no insurance coverage.
What factors influence the cost of IPL treatment in Dallas, Tx?
Factors that influence cost include location, experience and skill of the provider, and skin condition.
Are there financing options available for IPL Photofacial in Dallas, tx?
Yes, financing options are available.
What is the recovery process like after treatment?
There is no recovery process after treatment.
What is aftercare required following treatment?
You can resume your daily activities but give your skin a few days to recover fully.
Can I return to normal activities after therapy?
Yes, you can return to normal activities after your treatment.
What precautions should I take after IPL treatment?
Avoid excess heat and stay away from the sun.
What are the common uses of IPL Therapy?
 Improve skin tone and texture, unwanted hair removal, and minimize the appearance of scars.
Is IPL Therapy safe?
Yes, it's a safe treatment.
How long does an IPL Therapy session typically last?
It lasts for an average of 40 minutes.
How many Intense Pulsed Light (IPL) treatment sessions are usually required for optimal results?
You may need about 3 to 6 sessions for optimal results.
What is the cost of IPL Photofacial in Dallas, TX?
The average cost per IPL treatment session in Dallas is $600.
Are there any side effects or risks associated with IPL Therapy?
Yes, blistering, hyperpigmentation and scarring are some of the potential side effects.
How should I prepare for an IPL Therapy session?
Avoid direct sunlight exposure and stop exfoliating in preparation for your IPL.
Is there any downtime or recovery period after an Intense Pulsed Light (IPL) treatment?
IPL requires little to no downtime.
Can IPL Therapy be used on all skin types?
It can be used on all skin types, but it is less effective on darker skin.
Are the results of Intense Pulsed Light (IPL) treatment permanent?
No, they're not, but they last for long.
How can I find a reputable clinic or provider for Intense Pulsed Light (IPL) treatment in Dallas, TX?
Research reputable clinics online or ask your friends or family members for recommendations.
Are there specific aftercare instructions following an Intense Pulsed Light (IPL) treatment session?
The skin is extremely sensitive to heat after the procedure, so avoid hot showers and baths and sun exposure.
Best Medspa to Get IPL Treatment in Dallas tx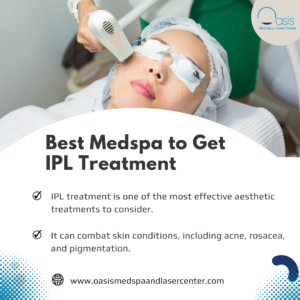 IPL treatment is one of the most effective aesthetic treatments to consider. It can combat skin conditions, including acne, rosacea, and pigmentation. It's also used to treat varicose veins, eye diseases and any other medical conditions. IPL hate removal is also available, a more convenient option than waiting or shaving.
IPL therapy has a lot of benefits, which is a major reason you should consider this treatment option. It also helps that it offers good and long-lasting results and it's safe.
If you're considering taking advantage of IPL treatment, we encourage you to schedule an appointment with us at Oasis Medspa and Laser Center.