CoolSculpting in Dallas, TX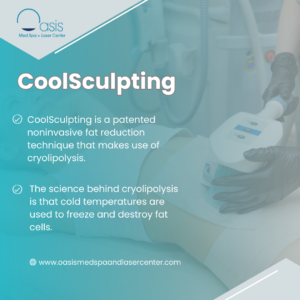 CoolSculpting in Dallas TX, is a patented noninvasive fat reduction technique that makes use of cryolipolysis. The science behind cryolipolysis is that cold temperatures are used to freeze and destroy fat cells.
This fat reduction process requires no incisions, needles, or anaesthesia. This procedure is becoming much more popular in Dallas because it is an effective and safe method for those looking to lose fat in specific areas of their bodies. 
What Is CoolSculpting?
It is the global top cryolipolysis procedure. The nonsurgical fat reduction procedure uses advanced fat-freezing technology to get rid of subcutaneous fat.
This technique involves the use of cooling applicators on gel pads to protect the skin from freezing but promote the freezing of fat cells.
The benefit is that it's a clinically proven method that's efficient for fat reduction. It can also be used on different areas of the body. This procedure is also a safe method that's associated with only minimal side effects. This non-surgical procedure also offers natural-looking results.
It is a generally safe procedure and certain safety precautions are also in place to safeguard the client's health and ensure maximum results. The potential side effects of the procedure include temporary irritation, aching, or pain.
Why CoolSculpting Is Popular In Dallas, TX
Climate and fashion trends
One of the reasons why this cryolipolysis has gained fame in Dallas, TX is because of fashion trends and climate. These are the major factors resulting in the popularity of this procedure as these are the things that compel individuals to lose body fat to fit in with trends.
Body-conscious culture
Another reason why this cryolipolysis in Dallas, TX, is popular is the body-conscious culture. Body consciousness has made people categorize a particular body size as normal while the other body size that is different from the "normal" is abnormal.
This has caused a lot of people to go for this procedure to reduce their fat and conform to what society says it's the "normal" size.
The growing popularity of non-invasive procedures
This non-invasive procedure is becoming more popular because they're safe and require no downtime, unlike surgical alternatives.
It also helps that they require no incisions and general anaesthesia so patients don't need to worry about the risk of complications associated with anaesthesia.
CoolSculpting Procedure in Dallas, Tx
Consultation And Evaluation
In this step, a physical evaluation, as well as consultation is performed to understand the concerns and goals of each individual.
You will need to discuss your medical history and disclose all your current medications to ensure you're an ideal candidate for the procedure. Any questions you've can easily be answered by the provider during the consultation.
The Actual Procedure
A gel pad and applicator are applied to the target area.

The applicator is used to deliver control cooling to the fat in the targeted area.

Cooling and suction technology to the target area.

The target area is then massaged immediately after the process to break down frozen fat cells.
Recovery time And Post-procedure Care
This procedure doesn't require so much time for recovery. Most times you can return to your regular activities and some people may need a few days to recover from the mild side effects associated with the procedure.

Wear comfortable clothes and apply warm compresses for faster relief after the procedure. Massaging the treatment area and staying hydrated after the procedure are also important.
Finding the Right Provider for CoolSculpting in Dallas, TX
Researching Providers
You can't find the right provider if you don't look for them. This is why it's important to take your time to research the different providers in your locality to find the best one for you.
Considerations For Selecting A Provider
Qualifications and specializations.

Experience with clients.

Online reputation, reviews, and ratings.

Accessibility and affordability.
Questions To Ask During The Consultation
There are important questions that you need to ask your provider during your consultation. These include:
Am I an ideal candidate for CoolSculpting in Dallas, TX?

How much fat does this fat freezing remove from the body?

How safe is the procedure?

What are the risks and complications associated with this cryolipolysis?

How long will it take to see results?
Cost and Financing of CoolSculpting in Dallas, TX
This Cryolipolysis procedure costs about $3000 in Dallas, TX. The typical cost range for CoolSculpting in Dallas, TX is between $2,500 to $4,500.
Several factors may affect the cost of cryolipolysis, ranging from the number of treatment areas, the provider's experience level, and the location of the provider.
This treatment is not covered by insurance but you can get financing options from some providers to make payment easier for you.
Success stories from real CoolSculpting patients
A 40-year-old male read about a non-invasive method that can reduce his belly fat in time. After reading about this procedure he scheduled an appointment with the best meds to get CoolSculpting in Dallas, TX.
After careful evaluation, we customized a specific treatment plan to suit his needs. After this session, he noticed a significant reduction in his belly fat. 
Testimonials from satisfied customers
Some of our testimonials include:
"I used to have time for intense workouts but after I got busy and stopped having time to work out I noticed that I started developing belly fat. This is why I considered this fat-freezing and thankfully I wasn't disappointed."
Safety and Risks
These fat-freezing treatments are an extremely safe method of fat reduction. The procedure is associated with minimal risks. The potential side effects associated with this procedure include decreased sensation, pain, dizziness, rash, nausea, and swelling.
All of these side effects resolve within a few days.
Tips For Minimizing Risks
It's essential to choose a qualified provider with years of experience to minimize risks.

Preparing adequately for your treatment can also help reduce risk.

Adhering to the post-treatment instructions can also help minimize the risk of complications.
Contraindications for Cryolipolysis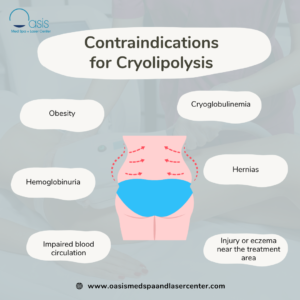 This procedure is not indicated for certain people. These include people suffering from:
Obesity.

Cryoglobulinemia.

Hemoglobinuria.

Impaired blood circulation.

Hernias.

Injury or eczema near the treatment area.
Breastfeeding or pregnant women shouldn't have this fat-freezing treatment.
CoolSculpting for Specific Treatment Areas
This fat-freezing treatment is effective for several areas of the body. Some specific treatment areas that cryolipolysis is perfect for include the abdomen, thighs, upper and lower back, chin, upper arms, and under the chin.
This cryolipolysis even targets fats in areas of the body that exercise and diet can rid of.
Most of our success stories and testimonials for specific treatment areas are for belly fats and love handles. Most of our clients have rated us excellently online because of the incredible results they've gotten by using this procedure to get rid of belly fat and love handles. 
Conclusion
CoolSculpting is one of the best nonsurgical procedures that can be used to get rid of excess fat in different areas of the body.
It's an extremely safe and highly effective procedure that requires little to no downtime. If you've been looking for a way to eliminate excess fat without going on a strict diet or intense workout routine, you should consider this procedure.
FAQs
How many CoolSculpting treatments are typically needed to see results?
Most times, you will only need one treatment session to get your desired results. Some people may require two sessions to see their desired results.
Are CoolSculpting treatments painful?
It is not painful. However, it can be a bit uncomfortable.
Is there any downtime or recovery period after the treatment?
This treatment doesn't require any downtime. You can resume your normal daily activities immediately after your treatment. 
How long does it take to see results from CoolSculpting in Dallas, TX?
It takes about one to three months to start seeing noticeable results after the procedure.
Are CoolSculpting treatments permanent?
Results from this treatment are permanent so far you don't regain the weight. You can maintain your results by ensuring that you don't regain weight by exercising regularly and living a healthy lifestyle.
Are there any risks or side effects associated with this fat-freezing treatment?
Yes, there are minimal risks and side effects associated with fat freezing such as decreased sensation, pain, dizziness, rash, nausea, and swelling.
Can CoolSculpting treatments be used for weight loss?
It is not considered a form of weight loss treatment. It is only used to reduce fat in specific areas of the body.
How do I know if I'm a good candidate for CoolSculpting in Dallas, TX?

If you have stubborn pockets of fat in specific areas of your body, you may be a good candidate for this procedure. However, it is recommended to consult a fat-freezing provider to confirm if you're an ideal candidate for the treatment.
Oasis Medspa and Laser Center: Best Medspa to Get CoolSculpting in Dallas, TX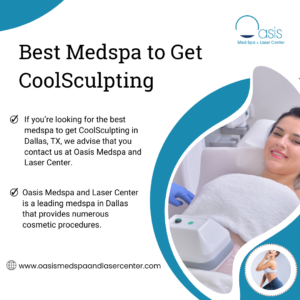 If you're looking for the best medspa to get CoolSculpting in Dallas, TX, we advise that you contact us at Oasis Medspa and Laser Center. 
Oasis Medspa and Laser Center is a leading medspa in Dallas that provides numerous cosmetic procedures. Our treatment is one of the best body contouring procedures that can help you get rid of excess fat and achieve a more defined and contoured body. 
At Oasis Medspa and Laser Center, we offer using advanced technology and modern technique to minimize risks and guarantee your safety. 
Visit us today or schedule an appointment to slim down without undergoing surgery.