Dermal Fillers in Dallas, TX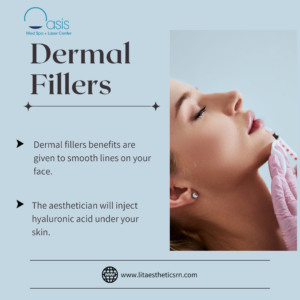 Dermal fillers benefits are given to smooth lines on your face. The aesthetician will inject hyaluronic acid under your skin. Generally, people choose them to get a more enhanced and young look. It is a non-surgical cosmetic procedure. 
Some Stunning Dermal Fillers Benefits – Read about them!
There are several benefits of dermal fillers. Let us know them before you go for your filler:
Improves the shape of lips 
While some people have fluffy lips naturally, at the same time some have thinner lips. The thinner lips sometimes are not pleasing to you; it can give a more enhanced shape to your lips. It changes your overall look.
If the lips are over-plumped, that is due to too many fillers, and let us accept the fact they do not look natural and attractive. These are the most important dermal filers benefits it can also restore the volume of the lips that you have lost with time.
Dulls the laugh lines
The laugh lines could make you conscious and are one of the major signs of ageing. These lines and folds make you look older. But with the help of dermal fillers benefits, you can smooth the laugh lines keeping the expressions intact.
Increases collagen 
Collagen is an important element if it starts decreasing, it makes your skin look loose and saggy. The skin will lose its elasticity, and there will be a loss in volume.
With the help of dermal fillers benefits, you can keep the collagen intact in your body, which will help tighten your skin. 
Gives an edge to your jaws and chin
Not everyone can have a perfect jawline or chin. With age, your lower area also starts getting saggy. But with the help of these fillers at the Medspa, you can contour your jawline and chin and still flaunt it no matter what your age is. 
Restore the smoothness of the neck.
When you bend your chin down while reading over time you tend to get some lines in the neck area. But if you are looking to restore the smoothness of your neck, These fillers are the right option for you.
Reduces fine lines and eye bags 
If you are getting hollowness with age under your skin and lines start appearing more prominent, you can get rid of them easily. It can help you reduce these. Apart from this, they will also help you reduce dark circles and your eyes will look fresh.
Tighten the earlobes 
The ears are a small part of the body to which nobody pays much attention. But with the help of fillers, you can eliminate creases and lines from your earlobes. Wearing too many earrings can also make them sag but the filler is the solution to all.
Lessens the scars
Whether they are acne scars or normal scars, They will work best for your scars. As they are injected under your scars they give your more toned and smoother skin.
You can tend to have a few scars after years of treatment, but the effect will not be that much after getting a filler done. 
Contours the cheeks 
You should note that getting the perfect amount of filler for your cheeks is a must. As too much dosage can inflate the cheeks and make them look swollen.
The perfect filler used will give your more enhanced and smoother skin making you feel younger. 
No more hollow temples
Temple fillers can make your overall face look very symmetrical. If you feel that you would like to have a round face rather than a narrow one, get the fillers done.
During the temple, fillers cannula should be mostly used, and the needle could go into the wrong places and damage the temple nerves.
Improves the nose profile 
Have you heard of surgeries for nose contouring? Why go for a longer procedure when we have fillers as an option? If you wish to add volume, give proper shape and contour to your nose and get a filler done. This will save you time and cost too.
Helps in facelift 
These are less invasive and good techniques to overall enhance the look of your face. Not only this, but you will get better and immediate results after a facial filler.
It also re-touches all the areas of the face giving volume to it.
Uplift the eyebrows
The first sign of your ageing is lines will appear, and your forehead will start to drop your skin making your eyes look smaller. But with the help of fillers, you can reverse this. They will not only fill the hollow areas on the forehead but will also give support to your eyebrows. 
Minimal risk
Some cosmetic procedures involve a lot of risks; unlike them, fillers have very few risks associated with them.
It is scarce to face any complications after getting filler. But it is equally important to have the best aesthetician and look for Oasis Med Spa & Laser Center is the best medspa to get dermal fillers in Dallas, TX.
Immediate results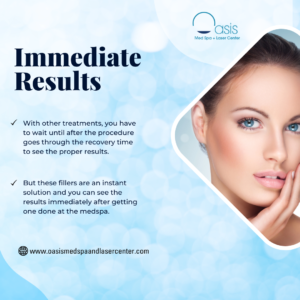 With other treatments, you have to wait until after the procedure goes through the recovery time to see the proper results. But these fillers are an instant solution and you can see the results immediately after getting one done at the medspa. 
Can be done with other treatments 
You can club fillers with other medspa treatments. There is nothing like you have to get one treatment completed, then only you can get a filler. It can also be well combined with other skin procedures to have more efficient results. 
Saves your from invasive surgeries 
While there are some invasive surgeries to lift your face and improve your skin, a dermal filler is the least invasive procedure and can be your saviour.
You will not have to go through invasive techniques if you have the option of hyaluronic acid.
Makes you feel confident
If your skin or face makes you feel less confident about yourself and you are thinking of a dermal filler. We say get it done! The after results of these fillers will make you look confident and will enhance your beauty naturally.
Long-lasting results 
One of the most significant dermal fillers benefits is results of these fillers are long-lasting, depending on the skin type and the areas that are being treated.
For the first time, you can consider injections that have short-term results. Later on, you can replace the injection with the consideration of your skin specialist or Medspa professional.
Effects are subtle 
A dermal filler will never make you look overinflated unless you have not taken too much of it. They always tend to give natural results improving the overall look of your face. But make sure to speak with your specialist before getting it done.
The overall feel is good. 
With the help of a filler, you can feel the entire look of your face enhanced and young. It will soften the skin reducing the amount of acne or any other scar. The skin will look fresher and younger.
FAQ's
Do dermal fillers improve skin quality?
Yes, dermal fillers treatment will improve the quality of the skin and will even help in improving the thickness of your skin, giving you a more enhanced look.
Do fillers make you look younger?
Yes, they will restore the freshness of your skin tending to make you look much younger and improve the face lines. 
Is it better to get fillers or Botox?
These fillers are much better because the result of a filler will also last longer than a botox. 
At what age should you start fillers?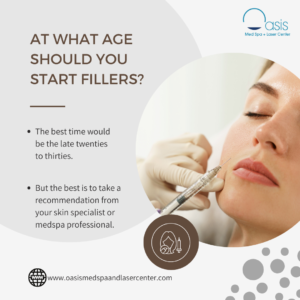 The best time would be the late twenties to thirties. But the best is to take a recommendation from your skin specialist or medspa professional.
What happens when filler wears off?
The filler fills out the sagging skin and tissues, so when a filler is gone, the skin will come back to how it was before. 
Lip Fillers Injections Dallas, TX
Lip fillers are fillers injected into the lips to add volume to your lips and make them fuller.  
Lip fillers contain a synthetic form of hyaluronic acid (HA), a natural substance found in the skin. There are different brands of lip fillers, such as Juvederm, Restylane, and Perlane.
Juvederm Fillers Dallas, TX
Juvederm is an injectable filler that contains the synthetic form of hyaluronic acid. The skin contains natural hyaluronic acid, which helps the skin retain moisture and softness, and also adds volume to the skin.
Juvederm filler works by restoring volume to areas of the face that have lost volume. Juvederm filler helps to plump up and add volume to the skin, reduce the appearance of wrinkles and lines, enhance facial contours, and improve signs of ageing. Juvederm can also be injected into thin lips to fade volume and plump up the lips. 
What is in a dermal filler?
There are various types of dermal fillers in Dallas, Tx, and they contain different substances. These include:
Hyaluronic acid (HA)
Many different brands of dermal fillers contain hyaluronic acids. This is because hyaluronic acid is a naturally occurring acid found in the skin.  They contain hyaluronic acid, are safe for use and provide many benefits to the skin. Juvederm and Restylane are some common hyaluronic acids that contain hyaluronic acids. 
Calcium hydroxylapatite (CaHA)
Some fillers contain calcium hydroxyapatite, a substance found in the bones. Fillers that contain CaHA are usually used for deep wrinkles. Radiesse is an example of a dermal filler that contains CaHA.
Poly-L-lactic acid (PLLA) 
Some fillers contain PLLA, a substance that helps the body create its own collagen. Sculptra is an example of filler that contains PLLA. 
Polymethylmethacrylate (PMMA) 
Some dermal fillers contain PMMA. These fillers contain collagen and very small balls that stay under your skin after the filler is injected. The balls give the skin volume and keep the skin firm. Bellafill is an example of a dermal filler that contains PMMA.
What can dermal fillers correct?
Plump up areas of the face that have lost volume

Plump up and add volume to thin lips

Enhance shallow contours

Soften facial creases

Smooth out wrinkles and lines

Reduce the appearance of scars
Under Eye Fillers Dallas, TX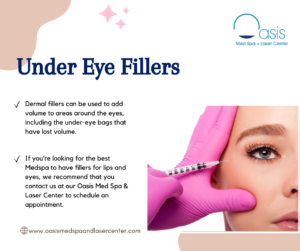 Dermal fillers can be used to add volume to areas around the eyes, including the under-eye bags that have lost volume. 
If you're looking for the best Medspa to have fillers for lips and eyes, we recommend that you contact us at our Oasis Med Spa & Laser Center to schedule an appointment.